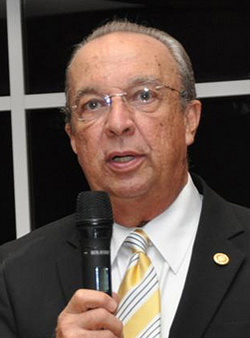 District 6 County Commissioner Melissa McKinlay recently appointed former Wellington Mayor Dr. Carmine Priore to the Palm Beach County Zoning Commission.
"I have a tremendous amount of respect for Dr. Priore's long record of public service and his leadership," McKinlay said. "His historical perspective on the western communities will be an asset to the zoning commission."
Priore submitted an application and paperwork upon discovering that McKinlay had an appointment to the commission available.
Each county commissioner appoints a zoning commissioner to the board, along with two commission-at-large appointments.
"Last week she appointed me, and I attended my first meeting this past Thursday," Priore said, noting that the meetings take place on the first Thursday of each month.
Serving the county, and Wellington, isn't new for Priore, who has served as a member of the Metropolitan Planning Organization and Treasure Coast Regional Planning Council, was appointed to the Palm Beach County Land Development Regulatory Commission, and served as Wellington's vice mayor from 1996 to 1998, before serving as mayor from 1998 to 2000. Except for a one-year hiatus, Priore served continuously on the Wellington Village Council from the community's incorporation until his retirement due to term limits in 2012.
He is excited about his new assignment.
"It was very much an opportunity to revisit an area that has always interested me," he said. "I felt that there was a lot going on in the community, in the county, still, and particularly out here in District 6. I like to be a part of what is happening and help in some small way."
The Palm Beach County Zoning Commission covers a large area, providing a sense of what is going on throughout the county, Priore said.
"It's a very interesting group," he said. "The issues that come up are in areas that are not part of incorporation and are part of the county in general as a whole."
There are many developments in these areas that will require zoning approvals, Priore said, emphasizing that the role of the zoning commission is advisory in nature.
The Palm Beach County Zoning Division presents information to the zoning commission, which then offers advice to the Palm Beach County Commission after reviewing the issues at hand.
"There's a great deal of checks and balances, which is always very favorable in any governmental agency," Priore said.
The meetings focus on issues where decisions need to be made, and aren't regular agenda items, Priore explained.
"I'm always excited to take part in any government agencies or organizations, because I feel like I can bring something to the table," he said. "I've been doing this for more than 20 years now, and it is something that always excites me, makes me feel energetic being able to play a role and be part of something. That's always a good feeling."
ABOVE: Dr. Carmine Priore