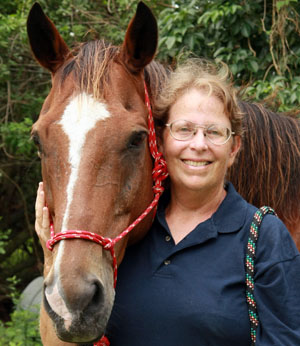 TALES FROM THE TRAILS
It began back in January during a visit to the South Florida Fair, strolling through my favorite part, Yesteryear Village. I wandered into the cracker cow barn, then paused.
Assorted clutter on the right, a partial hayloft overhead, rough stalls to the left. The remains of some western saddles and shoer's chaps rested on the stalls, weathered and faded. Sewn down one side were leather letters spelling out "Dale." And I knew. Sure enough, the fender of one of the saddles was embossed: Dale Carmean, hot or cold custom horse shoeing, along with an anvil, a hammer, a pair of nippers and four horseshoes arranged like the leaves of a lucky clover.
People walked past, and I stood, remembering. They didn't know what they were seeing.
I'd known Dale Carmean. Many times I watched him shoe horses at Pinegrove Stables. He was a large, muscular man with a shiny pate. He never shoed my horse, but he did many others.
I had another connection to him as well; a memory tinged in tragedy and sadness. I wondered who else might remember Dale, which is how I ended up at a house off of F Road in Loxahatchee Groves one Sunday afternoon, visiting with two of Dale's grown children, Cody Carmean and Kathy Chavis, Cody's wife, Ann, and their daughter, Haley.
"Dad grew up in Indiana and moved to Palm Beach County in the late 1950s," Cody recalled. "He was always into horses. He rode some rodeo, steer wrestling and bulldogging. He apprenticed himself to Albert Jurney, a farrier at Tropical Park, and shoed a lot of trotters, racehorses and polo ponies out at Gulfstream Polo. I remember going there with him, and also to barns around West Palm, Belle Glade and Indiantown. After my parents divorced, I spent every Sunday with him and a week or two each summer. One time we were having breakfast at the Copper Kettle and the owner remarked that he liked dad's voice. He talked him into doing a radio commercial for them. Dad helped anyone."
Cody learned a lot from his father, a U.S. Army veteran who earned a Purple Heart serving in Korea.
"I cleaned the horseshoes and his tools. He even showed me how to trim hooves. It's a hard way to make a living. He hurt his back when a young Thoroughbred spooked and landed on him. He hurt all the time, but he kept working. He'd lay on the ground sometimes, twisting back and forth. Finally, he had back surgery," Cody recalled.
"I don't know how he shod horses all his life," chimed in Kathy, Dale's oldest child. "Sometimes, when his back hurt too bad, he'd take a half a bute tablet. Mom was horrified. That's for a 700-pound horse, but he said it helped. We had a lot of horses, all of them bartered. The first was Pammy, a Welsh pony who'd foundered, a condition where the hooves become so painful that many horses can no longer stand and are put down. Dad brought her home and got her sound again. She was a great little pony we all grew up riding. She dumped me hard more than once, but he stuck me back on, and I learned to ride."
The family lived in what is now Jupiter Farms.
"It was hundreds of wild acres, no one else around. Mom was petrified when dad was gone at night. One time a big diamondback rattler killed her collie. We moved to Lake Worth and then to Loxahatchee," Kathy recalled. "Dad shoed a lot of show horses. One time a client didn't pay for a reshoe, where he removed the shoes, trimmed the hooves, then reset the shoes. He waited until an hour before the show, then he went back and pulled all the shoes. 'You can't do that, I paid for those shoes,' she said. 'You did,' he agreed. 'I'm not taking the shoes, just getting my nails back.' He was best friends with another local farrier, Ralph Underwood. They worked together a lot, and they built a lot of the fencing and cattle chutes at the original Posse show grounds."
More memories flooded back of the old Palm Beach County Mounted Posse grounds at the northeast corner of Belvedere Road and State Road 7. I attended a lot of shows out there. I'd known Ralph as well. He'd shod a lot of my horses. He and his wife Jan lived on a small ranch at the corner of F Road and Collecting Canal.
"Dad knew a lot of old-time remedies," Kathy said. "He hated all the high-tech stuff, vet bills you couldn't read. He'd treat horses with cobwebs and such, and they always healed up fine. He passed in 1989 at age 60 of a heart attack. He didn't have a will, but we went through his stuff and split it up, no arguing or fighting.
In 2000, they decided to donate some of his things to Yesteryear Village. "It was just sitting out in the garage, and that was a shame," Kathy said. "We wanted people to see his things — for him to be a part of the county history, like he had been."
Which was where I'd seen them, and remembered. Which brought back the other, sadder memory: Jeannie, another of Dale's daughters. She was 11 when I knew her in 1991. I was the librarian at Crestwood Middle School, and she was in the sixth grade.
She was a quiet girl with just a few friends, and she was horse crazy. She checked out one horse book over and over. By the end of the year, it was so tattered that I marked it "discarded" and gave it to her. That's what I thought of the following fall, in 1992, when the accident happened.
Jeannie was riding her buckskin horse, Crocket, when someone's pet pig suddenly ran along a fence beside the road, spooking him. Jeannie tumbled off, and Crocket jumped sideways, trying to avoid her, but broke his leg and fell, crushing her. I never realized that Dale was her father until I read her obituary.
"We buried her with a buckskin Breyer horse," Kathy said quietly. "And we had to put Crocket down too, because of the broken leg. That was a hard time. Mom was hanging clothes out when it happened. Crocket came home alone, so she ran down the road to see what had happened. She found Jeannie."
We were all quiet a minute, remembering the good times and the bad.
Dale's chaps and saddles still sit in the cracker cow barn. But now, perhaps, if you walk through and see them, you'll know a bit more about what you're seeing. You'll know a little of Dale's story, and how he was a part of the horse history of Palm Beach County.