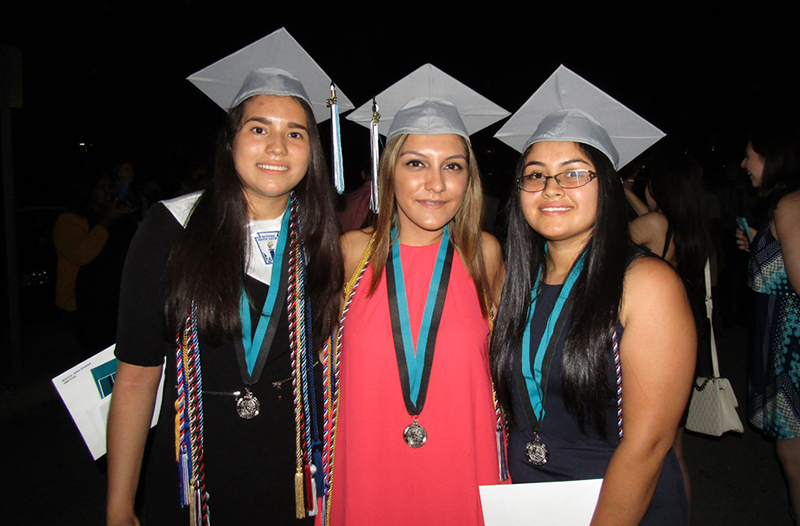 Royal Palm Beach High School sent 538 new graduates into the world on Monday, May 23 during commencement exercises for the Class of 2016 at the South Florida Fairgrounds Expo Center.
Salutatorian Rayven Glaubrecht, a Pathfinder Award recipient who plans to attend the University of Central Florida to major in research biology, said her four years in high school have flown by, but she is ready to begin a new journey.
"I would like to take this opportunity to thank our teachers, because their devotion to teaching has helped us turn into the young adults we are today," Glaubrecht said.
She celebrated with her classmates as they began the next chapter of their lives.
"We have reached a milestone," she said. "Many of us have known each other since kindergarten, and we have grown up together, but after tonight, we are all going on different paths. Some are going to college while some choose to serve our country or add to the work force. I challenge you all to find happiness with yourselves."
Valedictorian Marissa Premsukh, a Pathfinder Award nominee and AP Distinguished Scholar, will attend the University of Florida to major in chemical engineering.
"There is always something new to discover, and I thank you all for helping me to do just that," she said, honoring her teachers who helped her along the way. "Royal Palm Beach High School's Class of 2016 is graduating today, and everyone who helped us get to this point is in this room. I sincerely thank all who provided their support. We needed you, but today we can finally say we can make it on our own."
Principal Jesús Armas recalled seeing potential in the graduating seniors when they arrived as ninth-graders.
"Now, what I see sitting in front of me tonight is whole bunch of potential fulfilled," Armas said. "Your fulfilled potential is evident in the many and varied achievements I see on this campus. I see great achievement when I see Rebecca Kahn earn a Pathfinder scholarship, and when I see Shyanna Lewis on the dais of the [Royal Palm Beach] Education Advisory Board."
He also saluted graduating seniors Lacey Latour and Gevaughn Lewis on their work with the National Honor Society, student artists who sold their work at auctions to raise money for the school, and Rachida Harper's winning alcohol prevention artwork displayed on school buses across the district.
"I see great success when I see Stephanie Sanchez's painting and Adrien Nicholas swimming," Armas said. "When I see Camille Hearst throwing footballs and Da'Von Brown catching them; when I see Luke Hollander and Jaime Tino on their respective diamonds, and Mark Houston on the basketball court."
Armas also saw great achievement in the academic excellence of those in the top 5 percent of the class, including Amanda Alli, Leila Belakbir, Lisa Marie Bennett, Stanley Delice, Abigail Duncanson, Rayven Glaubrecht, Stefani Goodine, Rachida Harper, Adecia Harrison, Anny Henao, Amanda Joiner, Giavanna Joseph, April Kho, Lacey Latour, Hunter Loomis, Jose Lopez, Ryan Lorenz, Alexander Micciche, Rebecca Morgan, Marissa Premsukh, Sydney Rallo, Christian Salamone, Stephanie Sanchez, Sierra Sewdass, Chad Skinner, Jennifer Uzcategui and Maya Williams.
Armas also credited Chad Skinner on speaking Latin while playing chess, Briana Lustig and Elizabeth Gibbons for working on the yearbook, and Damon Weaver for interviewing President Barack Obama.
He credited the boys soccer team for winning the school's first-ever district championship, and saluted band members for their outstanding work under the direction of Benjamin Eubank. Armas saw achievement in teacher Juan Lizcano for his work in the medical academy and his work on the athletic fields as a trainer.
"Graduates, I see extraordinary achievement and leadership when I see Crichanni Watson travel to Washington, D.C.," he said. "And when I see Jaslyn Dominique standing at the philanthropic stand where she won $12,000 for the school. Graduates, I see much achievement in the routine greetings and casual conversations that I have been fortunate enough to have with you."
Armas was also thankful for the support that the school has received from the entire community.
"I see great achievement on the stage behind me in the school leadership that, together with our village, made an effort to create a true continuum of education in our community," he said. "All of these achievements are examples of how you have fulfilled your potential as high school students, but there is a reason why this event is called commencement. It's called commencement because today you will commence a new chapter in your life."
He urged the students to go out and fulfill their potential.
"I think there are three ways you can go about getting the most of your potential so that you can achieve greater things in your life — by being comfortable in your own skin, by being a forward thinker and by not ever taking shortcuts in your life," Armas said.
He encouraged the graduates not to let their insecurities stop them from trying new things.
"Be comfortable in your own skin," Armas said. "Be yourself. To truly reach your full potential in life, you need to start by being yourself. Writer and producer Heath Buckmaster said that it's not about becoming a new person, but becoming the person you were meant to be, and already are."
Forward thinking is also a crucial requirement.
"Don't believe any of us old-timers when we tell you how much better it was in our day," he said. "For heaven's sake, don't be the last young person to leave Facebook for Snapchat. Don't be the writers of Variety magazine who said in the spring of 1955 that rock 'n' roll will be gone by June, or Robin Metcalfe, who in 1995 said, 'I predict the Internet will in 1996 catastrophically collapse,' or my personal favorite, the bank president who told Ford Motor Company investors: 'The horse is here to stay. The automobile is only a fad.'"
Armas recalled that five years ago, he had asked teacher Paul Miller to lead the school's new engineering academy.
"I gave him nothing but the keys to an empty room and a pat on the back, saying, 'Go get 'em.' So, armed with nothing but his great attraction and his forward thinking, Mr. Miller has grown the academy to our second largest academy, has created countless business partnerships, has stocked that empty room with all the equipment necessary to run a top-flight program, and this year led our students to the overall championships in the district's SECME competition, all because he's a forward thinker," Armas said.
He cautioned graduates that no matter how comfortable they are in their own skin or how forward-thinking they are, there are no shortcuts to reaching their full potential.
"Michael Jordan said, 'Be true to the game because the game will be true to you,'" Armas said. "If you try to shortcut the game, the game will shortcut you."