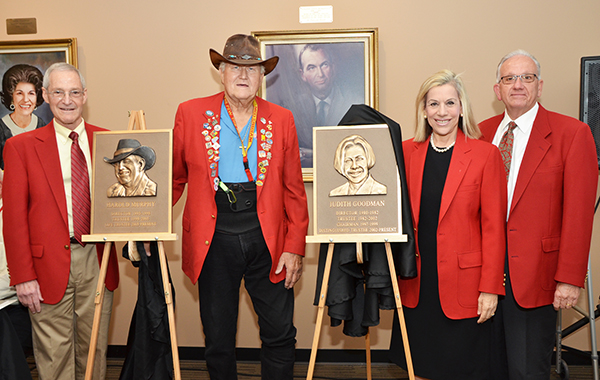 The South Florida Fair recently inducted two volunteers into its Hall of Fame. Jack Frost, the fair's 2015-16 chair, announced that Judy Goodman of Palm Beach and Harold Murphy of Loxahatchee are the 2016 inductees.
"In our 104-year history, we have attracted volunteers from all walks of life that have one common denominator," Frost said, "which is having a love for our fair to make it a true showcase for our community and South Florida."
Goodman joined the fair's board of directors 36 years ago. Her background includes broadcasting, community service, fundraising and the legal profession. In 1997, she became the first woman to become chair of the fair. She was instrumental in increasing the financial accountability, its stability and an improvement in financial results. While serving as chair, Goodman obtained the largest grant for Yesteryear Village from the Bureau of Historic Preservation in the amount of $450,000.
Murphy joined the board of directors in 1995 after serving as a volunteer. A former Marine, law enforcement officer and a small businessman, he has used his talents and assets for three decades in helping Yesteryear Village become what it is today.
He provided the transportation for many of the structures in Yesteryear Village, and the necessary equipment to move and relocate the buildings. Without his help, Yesteryear Village would be only one third of the size it is today.
In 2004, the fair's board initiated a means of honoring those who have greatly contributed to the South Florida Fair & Palm Beach County Expositions Inc. They are honored in a Hall of Fame area.
ABOVE: Jack Frost, Harold Murphy, Judy Goodman and Rick Vymlatil.