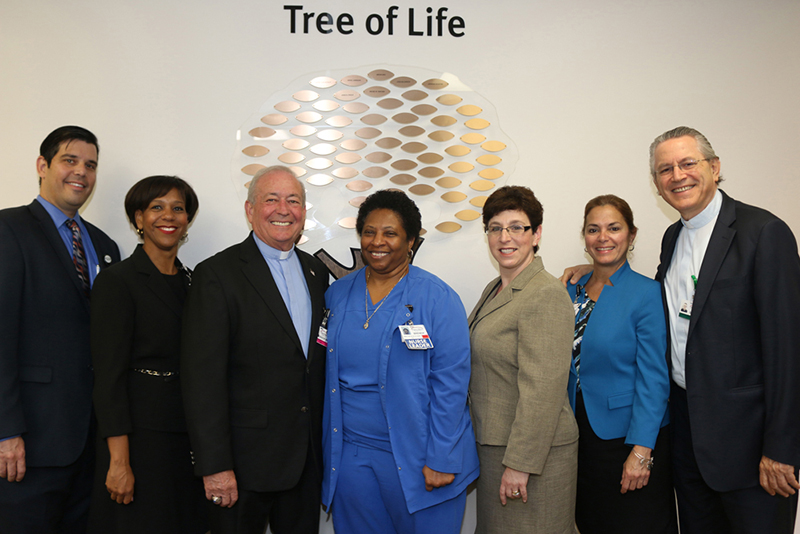 An emotional "Tree of Life" dedication ceremony took place at Palms West Hospital on Wednesday morning, May 25. Flowers and tissue boxes were placed on the tables and handed out in a classroom that quickly became standing-room-only.
"In some way, shape or form, we are all connected. Today, the connection is a donor family and a recipient family," Chief Nursing Officer Silvia Stradi said. "It's really an honor and a privilege for us to welcome you to our Palms West Hospital family."
Stradi reminisced about the first heart transplant she was part of, and the family seeing their loved one with a new organ.
"Just to be in those special moments, where because of someone believing in the gift of life, a family believing in that gift of life, and being willing to give that gift to someone else, and the many people that impacts, it's a special day for all of us at Palms West Hospital. We thank you for allowing us to share in your moments."
Stradi thanked Life Alliance for working with Palms West on the Tree of Life project. "The Tree of Life is going to be a perpetual remembrance of those who donated and those who are alive today," she explained.
Palms West Hospital CEO Eric Goldman's goal is to change the connotation that a hospital is only for the sick, to the belief that it's somewhere where babies are born, lives are saved and healing occurs.
"Miracles happen on a daily basis amongst the sad things that we have to deal with as well," he said. "I think that's a lot about what this ceremony means to everybody in this room, that there is a feeling of hope out there. Even at the darkest hour in many families' lives, you can give hope to someone else and you can truly save a life in the process of losing a life."
Wednesday's dedication ceremony and the Tree of Life itself help provide that hope.
"It gives a beacon of light for the future," Goldman said. "Just the fact that we're even able to talk about organ donation and all the great things we can do as a hospital to support it, all the incredible organizations that go into it, the incredible families who make that selfless determination to make somebody an organ donor, and then to be able to see the lives touched in one place in such a special way, is probably one of the more moving things that I get to deal with."
Intensive Care Unit Medical Director Dr. Belayet Hossain explained that someone's last few days before donating an organ or tissue are often in the ICU.
"I'd like to give my salute in honor of all of you. You've been a special guest for Palms West," he said. "This act of giving, giving an organ or a tissue, to someone to live their life in full, that's incredible… that's special. You have special families here."
Life Alliance Organ Recovery Agency Executive Director Dr. Alghidak Salama called organ donors heroes. "The act of organ donation truly symbolizes the best of humanity," he said. "These heroes, either on their own, or through the wishes of their family, have contributed to saving and improving the lives of countless people."
Without great care from the hospital, and outstanding family support, organ donation would not be possible, Salama explained. "To the donor's family, every time we are in your presence, we are humbled and honored," he said. "We are better human beings because of what you have done."
Mara Budnetz, public relations director for the Florida Lions Eye Bank, noted that her agency restored sight to more than 1,600 cornea recipients in 2015. Eighteen of those individuals were donors from Palms West Hospital. She spoke of a 77-year-old recipient who is an artist and teaches art.
"This is just one example of the thousands of people who are helped here in Florida, nationwide and worldwide every year due to cornea donation," Budnetz said.
Lung recipient Leland Herring, 46, thanked his donor for his survival. Herring was first diagnosed with cystic fibrosis in 1974 in Miami and wasn't expected to live past 13. Without his donor family and Duke University, he wouldn't have his wife and children today.
"I want to thank you guys for what you do," he said. "I would not be alive without people like you doing what you do."
Lori Paquette, mother of donor Nicholas Paquette, told her story. Eight days after her father passed away, she lost her son.
"On March 12, 2014, three weeks after his 23rd birthday, our lives changed forever," she said. "Tragically, about 5 p.m., Nick was hit by a car crossing a busy intersection near our home."
She heard the sirens and thought something terrible must have happened. Just five minutes later, her phone rang. It was her son's girlfriend, telling her that her son had been hit by a car.
On Friday, March 14, at 5 p.m., it was determined that Nicholas was brain-dead, and the family signed the forms for him to be an organ donor.
Sixty-four people, through tissue donation, have been helped by her son. There were 49 bone grafts, six cartilage grafts and nine tendon grafts. His corneas gave two people sight.
Two-year-old liver recipient Deanna and mother Heidi Anderson, who is a Life Alliance volunteer, explained how organ transplant changed their lives. It started when they discovered that Deanna needed a liver transplant. Her body was retaining bile, causing cirrhosis. Deanna received a transplant and is now living a good life.
Father Gabriel Ghanoum led an invocation at the Tree of Life.
"We are gathered here around the Tree of Life to pay tribute to Rachel Fancher, Jessica Otaola, John McCarron, Justin Cole Worley, Ja'Nyriah McIntyre, Melvin Reid and Angel Larragan," Ghanoum said. "We have, on the physical dimension lost them; they've lost their lives. We are here to recognize the generous gifts, and ultimate giving, the gift of life to another human being. The tree symbolizes life and the leaves represent our loved ones. This is what the gifts of organ donors represents to transplant recipients. This tree is a reminder of the selfless gifts that donors and their families have given and of the miracles that, without them, would not have been possible. It embodies the spirt of generosity, the spirit of love and the spirt of compassion."
To become an organ donor, visit www.donatelife.net/register-now.