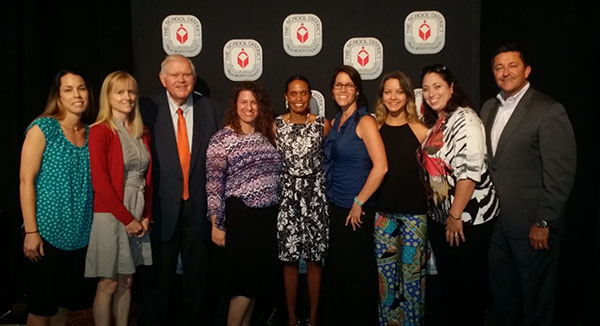 The School District of Palm Beach County recently held its annual Volunteer and Business Partners Awards Breakfast at the Kravis Center for the Performing Arts. Wellington Elementary School volunteers were honored at the breakfast. The school also earned the Five Star School Award and the Golden School Award.
The Five Star School Award was created by the Commissioner's Community Involvement Council and is presented annually to those schools that have shown evidence of exemplary community involvement. To earn Five Star School recognition, a school must show documentation that it has achieved established criteria in the following categories: business partnerships, family involvement, volunteerism, student community service and school advisory councils.
The Florida Department of Education presents the Golden and Silver School Awards to recognize exemplary programs, which promote parent and community involvement in education. Wellington Elementary is proud to have received these honors from the Florida Department of Education, the Palm Beach County School District and the Commissioner's Community Involvement Council.
ABOVE: Jade Faircloth, Brynn Tiscione, Palm Beach County School Board Chair Chuck Shaw, Cindi Taylor, WES Principal Dr. Maria Vaughan, Amy Bermudez, Jacynda Riaboukha, Julie Dimaiwat and School Superintendent Dr. Robert Avossa.