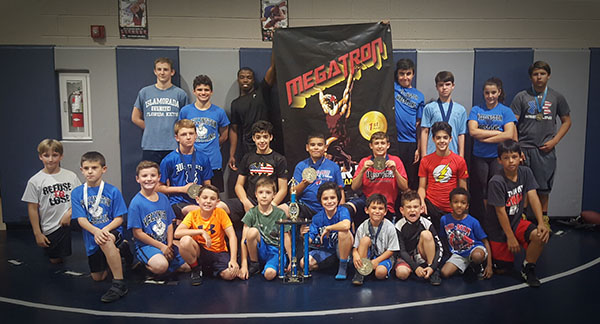 The Wellington Wrestling Club recently had two great weekends of wrestling, capturing back-to-back tournament championships.
The Warriors captured the K-8 championship at the Wellington 3style Open on April 23 with eight champions leading the way: Gian Ortiz (Midget, 60 pounds), Ethan Howard (Novice, 85 pounds), Chris Difiore (Schoolboy, 113 pounds, all three styles), Mason Powell (Schoolboy, 175 pounds) and Anthony Nicolosi (Novice 90, pounds).
The Warriors then traveled to the Orlando Convention Center for the Megatron World Championships on April 29-30 for a K-12 competition. Wellington captured the overall team championship with six champions, including: Joseph Hensley-Cooper (6 and under, 50 pounds), Aaron Sandlofer (12 and under, 115 pounds), Jesse Weinberg (15 and under, 95 pounds), Tony Widrig (15 and under, 105 pounds), Justin Henry (15 and under, 117 pounds) and Tyler Difiore (varsity, 136 pounds).
The Wellington Wrestling Club practices every Tuesday and Thursday. The club offers wrestling programs for beginners as well as a travel team.
For more information, contact coach Travis Gray at travis.gray@palmbeachschools.org or (561) 827-8595.
ABOVE: (Front row) Ryan Finkelstein, Zachary Santiago, Spencer Santiago, Dawson Schwetz, Tyler Gray, Gian Ortiz, Joseph Hensley-Cooper, Aiden Sandlofer, Ivan Townsend and Ethan Howard; (middle row) Tony Widrig, Joseph Nicolosi, Aaron Sandlofer, Jesse Weinberg and Anthony Nicolosi; and (back row) Steele Holman, Donovan Ortiz, Brandon McDowell, Jake Pilat, Justin Henry, Hosanna Kropp and Mason Powell.