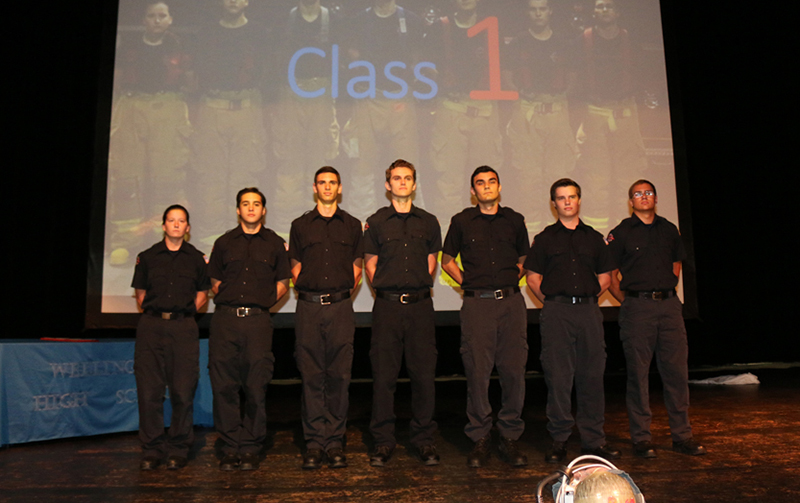 Wellington High School's Fire Science Academy held its first graduation ceremony on Friday, May 13, honoring seven pioneering students leading the way for many more to follow.
"Welcome to the first of what we know will be many annual events of this nature," WHS Principal Mario Crocetti said. "It seems like just three months ago, but it has really been three-and-a-half years, that Jim Marshall and I were discussing the idea of bringing a fire science academy to Wellington High School. Once we made that decision, it was Jim who ran with it."
Crocetti thanked Palm Beach State College and the School District of Palm Beach County for their support, partnership and encouragement. "We've had amazing instructors for our students, and all the cadets will agree to that," he said.
PBSC instructors typically work with post-high school students, but shifted gears to work with those just entering high school, Crocetti said, extending his thanks to the entire fire-rescue community in Palm Beach County. "Thank you for taking a chance on us," he said. "This was absolutely new three years ago — untested. It had never been done in Palm Beach County before, and you put your faith in us. And I hope we've delivered."
Marshall presented the first graduating class, which was led in by the Palm Beach County Fire-Rescue Pipes & Drums before the Pledge of Allegiance.
"I'm an educator who came into this business with an idea, and I thank Mr. Crocetti for the kind words, but the only thing I'll take credit for is helping to have the idea for this," Marshall said. "The grunt work of running this thing and putting it together has been the Palm Beach State instructors, specifically lead instructor Mark Davis, and all the professionals who have guided me along the way. It has been an incredible three years, and I just can't wait for this academy to prosper and grow."
From the beginning, Marshall said, the academy had the motto: "First In, Last Out."
"When we say that at the start of every single class — and we call our classes divisions — we're honoring the 343 from 9/11," Marshall explained. "We're honoring all of the first responders who have made the ultimate sacrifice."
The partnership between WHS and Palm Beach County Fire-Rescue has been instrumental, Marshall said.
Class leader Cadet Brandon Yurick led the cadets in the Firefighter Pledge before offering words of wisdom.
"Mr. Marshall has been like a father to all of us over these years. He has been pouring everything he has into this program," Yurick said. "That first year, he really was very important to us. He is the embodiment of what a teacher and educator really should be. He really took interest in each and every one of his cadets and ensured that no matter how much he didn't know, we would learn what he didn't know and then some."
Yurick thanked the school district for taking a chance and allowing the program, along with Crocetti, who helped the program purchase supplies, investing it without any guarantees. Yurick thanked the program's supporters at Palm Beach State College and his fellow cadets, who he said have become family.
Davis was given the task of recognizing the program's instructional staff.
Instructors have come from as far away as Brevard County to teach the students, Davis said. "You can call me 'lead instructor' if you want, but we're a team," he said. "These guys, I couldn't do anything without them."
PBCFR, the Town of Palm Beach, the City of Boca Raton and Martin County, Davis said, deserve special thanks. Between them, almost 150 sets of gear were donated to the program. "Gear and equipment are very important. I'd like to thank these guys," Davis said.
Retired Boynton Beach Fire Chief Ray Carter, with 43 years of service, was the keynote speaker. He offered the cadets advice on "the greatest profession in the world," with seven points that he has learned and they should remember:
1. Get over yourself: "The profession of being a firefighter is about teamwork, it is not about individuals doing spectacular things… At some point in your career, your life, and the life of somebody else in the public, will count and depend on that teamwork. It will not be an individual effort that will save a life out there."
2. Education never ends: "Every single encounter that you have in your profession as a firefighter will teach you something. Take that to heart."
3. Be prepared to laugh: "The human race does some of the funniest stuff you will ever see in your entire life."
4. Be prepared to cry: "As funny as the human race is and can be… they have a way of making you cry. They have a way of doing things that are unthinkable to one another, and whenever that happens, you — you — will be the professionals who are called to take care of what goes wrong."
5. 343: "Remember the number 343. That's the number of firefighters from FDNY who gave their lives on Sept. 11, 2001, in an effort to save thousands of civilians, thousands of people, from an almost certain death… Remember that number always. Every day you go to work, every time you do good work in the fire service, you will be paying tribute to the lives that they gave to save those thousands of people. Make them proud."
6. Stay in excellent physical shape: "The word stamina takes on a whole new meaning whenever your lieutenant tells you to take out the ceiling and the temperature in that room is about 1,100 degrees and you're wearing 60 pounds of gear and you have to perform because somebody's life depends on it."
7. Know your support system: "Make sure that every day you go to work, you look at your loved ones and you tell them how much you care about them, that their lives are just as important as being a firefighter, because they're your support mechanism."
Marshall thanked sponsors, supporters and teachers for their service to the Wellington High School Fire Academy.
Finally, Cadet Miqueas Paredes presented Marshall with the class project — a personalized lectern for him, handmade by the students.
"I'm a big fan of closing the circle of life, and this circle will be closed when one of them is standing here in the fire academy room coming in off shift and teaching our cadets, and I believe that will happen," Marshall said.
Aside from Paredes and Yurick, the other graduation cadets from the inaugural class are: Avery Binnix, Justin Shahin, Christian Freeland, Brandon Guyn and Chris Tollinger.