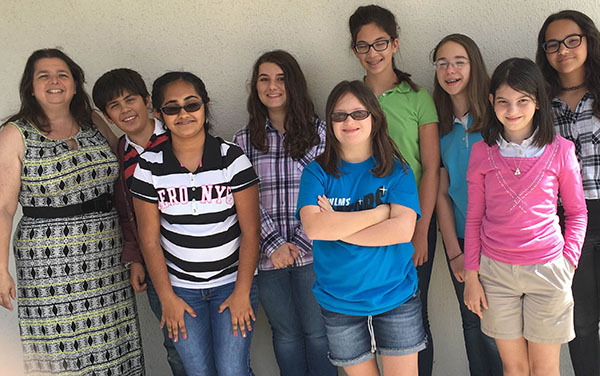 The Kindness Ambassadors Club at Wellington Landings Middle School, sponsored by Karen Epstein, was created last year with a simple purpose in mind: to do something kind each week.
These Wellington Landings students enjoy giving back to the school and the community by practicing random acts of kindness.
The President's Volunteer Service Award recognizes and celebrates Americans who make a positive impact as committed volunteers.
Nine Kindness Ambassadors have reached the group level bronze award by accumulating 25 hours individually, while the group has amassed more than 400 volunteer hours.
The following students will receive a pin and a certificate from the President of the United States: Sasha Brodtman, Lautaro Desmedt, McKenna Epstein, Sasha Khurana, Amanda Nunez, Madyson Richards, Sofia Sanchez, Sasha Smith and Tatiana Takvorian.
Three students have reached personal milestones of service. These students will also receive an individual personalized certificate from the president, as well as a service medal. Smith will receive a silver medal for 75 hours of service; Brodtman and Epstein will receive a bronze medal for 55 and 58 hours of service, respectively.
ABOVE: (Front row) Sasha Khurana, Sasha Brodtman and McKenna Epstein; and (back row) sponsor Karen Epstein, Lautaro Desmedt, Tatiana Takvorian, Sofia Sanchez, Sasha Smith and Madyson Richards. Not shown: Amanda Nunez.