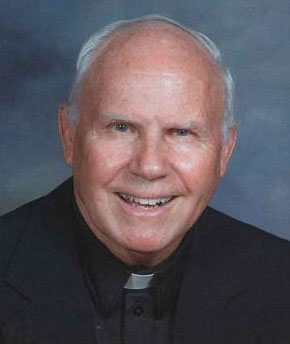 Father Walter J. Dockerill, the founding pastor of St. Rita Catholic Church in Wellington, died Sunday, June 12 at the age of 86.
Dockerill's visitation will be at St. Rita on Monday, June 20 from 6 to 8 p.m. A funeral mass will be celebrated by Bishop Gerald Barbarito on Tuesday, June 21 at 11 a.m., with interment to follow at Our Lady Queen of Peace Cemetery in Royal Palm Beach. There will be a reception following the mass in the St. Rita Parish Hall. The community is welcome to attend.
Dockerill was born on Dec. 22, 1929 in New York City and raised in New Rochelle, N.Y. He graduated from Cornell University in 1951 and served in the U.S. Army during the Korean War from 1952 to 1954.
He attended St. John's Seminary in Brighton, Mass., and was ordained by Bishop Coleman F. Carroll at St. Mary's Cathedral in Miami on Feb. 6, 1960.
Dockerill served at many parishes in the Archdiocese of Miami, such as Little Flower, St. John the Apostle, St. Patrick, St. Joseph and Visitation, before becoming pastor of St. Mark in Boynton Beach from 1971 to 1980.
Dockerill was appointed to guide the new St. Rita parish in Wellington on July 1, 1980. He served as spiritual leader at St. Rita, guiding the congregation's growth until his retirement in 2002.
Since the founding of the Diocese of Palm Beach in 1984, Dockerill also served on the Presbyteral Council, the College of Consultors, the Board of Directors of Our Lady Queen of Peace Cemetery, the bishop's liaison to the Charismatic movement, chaplain of the Knights of Columbus Council #8419 and Vicar Forane of the Central Deanery.
Dockerill is credited as a key figure in the spiritual growth of the young Wellington community. He is one of only a handful of people formally recognized as a "founder" of Wellington.
On Nov. 18, 2003, the Wellington Village Council issued a proclamation recognizing Dockerill as a "founder" of the Village of Wellington for his work at establishing one of the community's first religious institutions, fundraising efforts for the construction of the church where it stands now at the corner of Paddock Drive and Big Blue Trace, and his general support for building the Wellington community as a whole.