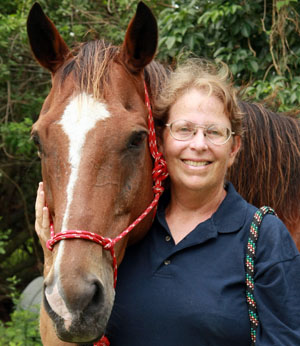 TALES FROM THE TRAILS
On Sunday, May 15, about a dozen equestrians met at Ingrid Taskin's Red Fences Farm on D Road in Loxahatchee Groves. They had come to attend a two-hour equine first aid course. Ingrid helped sponsor the talk, given by her friend, Ron Seibly. Attendees paid the very reasonable $15 fee, signed in, received a packet of handouts, drew up stools in the breezy aisle of Ingrid's barn, and Ron introduced himself and began.
Ron's horse background is quite extensive. He grew up on a farm in Michigan and always had horses. He started riding at 7 and showing at 9. By 17, he was teaching riding and horse care through 4-H. He studied animal science in college and owned his own stable in Massachusetts for 17 years. In 2002, he moved to South Florida, having grown tired of New England winters. He met Ingrid when he began giving her daughter riding lessons. They decided to offer the lecture, projected to be the first in a series.
"I envision doing more lectures on topics all horse owners should know," Ron said. "It's part of an extensive instructional program I developed geared for adults. This first lecture focuses on first aid and the basics of keeping horses safe and comfortable. It's very hands-on and practical. I want people to be comfortable knowing how to determine a horse's baseline vital signs, temperature, pulse and respiration, wound care, and dealing with some medical problems such as heat exhaustion, summer sores and colic, as well as what to do until the vet arrives."
He also covered what everyone should have in their first aid kit.
"I enjoy helping people learn, and you can never have too many resources," Ron said. "My goal is for people to be able to look at a horse and determine whether there's a problem and know what to do. With some conditions, like colic or founder, catching it early can mean the difference between life and death. These are tried and true practices that work and aren't difficult. Knowing this should be part of everyday practice and protocol. It's basic but very important information."
Ingrid stood a mare in the barn's crossties, and Ron referred often to the mare. He talked about observing a horse's appearance: how they stand (square or resting a hoof), skin tone and coat, normal sweating, checking the legs for heat or swelling, and normal behaviors such as an upright head and ears. He would have shown us checking the gums for color, but the mare declined.
He went on to explain the vitals. At rest, a horse's respiration should be eight to 12 breaths per minute (over 30 points to a problem); pulse should be 36 to 42 beats per minute (over 50 is dangerous); and temperature should be 99 to 100 degrees (anything higher is cause for concern). Checking respiration was done by watching the horse's nostrils or side. The pulse was a little harder to find. The best spots are finding where a vein came across a bone, either behind the knee, behind the eye, or under the jaw. The temperature was determined using a rectal thermometer. Participants were invited to come up and try their hand at all three.
Ron then detailed the suggested contents of a first aid kit, including antibiotic powder, spray and ointment, various bandaging materials, surgical tape, sterile gloves, a thermometer, alcohol, hydrogen peroxide and betadine solution. He also covered the signs and treatment of some common ailments.
Jessie Siciliano attended and brought along her groom. She owns two horses at her farm and boards others. "I think this lecture is an excellent idea," she said. "I plan to have everyone at my facility learn all of this. I'd definitely be interested in further lectures. This information may be rudimentary for some experienced horsemen, but it's stuff everyone should know."
Keeping horses healthy and happy in South Florida can be tricky, she noted. "People who come from other areas may not know about heat exhaustion, non-sweating and sand colic," Jessie said. "Ron is very knowledgeable and spoke in a reassuring way. He's very clear and concise on what steps to take. I also liked getting together with other horse owners in the community. It's nice to meet your neighbors."
Debbie Trontz-Smith came from Jupiter. She owns her first horse, which she has had for about a year and boards at a friend's barn. "I learned how to take all the vital signs," she said. "I asked a ton of questions. My horse has rain rot, and recently he has started rubbing his tail. The talk was very informative, and I feel more confident now. I'd most certainly attend future talks and absolutely recommend this to every horse owner."
Mary Last, founder of equine massage company Hands On Equine Services, also attended. "It was nice and informative, especially for new horse owners," she said. "Ron was thorough and knowledgeable. I think everyone got a lot out of it."
Ron also thought the clinic went well. "I was pleased with the turnout," he said. "Everyone was engaged, and we shared a lot of ideas. The participants were engaged in the conversation and appeared to be taking plenty of notes. Many questions were asked, and many contributions of information were shared. I look forward to doing more talks."
Ron anticipates offering future clinics on such topics as nutrition and feeding; paddock and pasture care; tack care, fitting and adjustment; grooming (daily, show and trimming/clipping); diseases/soundness of wind and limb; trailering safety; equine anatomy, conformation and movement evaluation; horse character and behavior; horse identification practices; designing a conditioning program to keep your horse fit; and hurricane preparedness.
For more information, visit www.red-fences-farm.com or call Ron at (561) 632-0918.