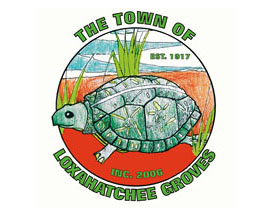 The Loxahatchee Groves Town Council on Tuesday tabled an application by Palms West Plaza to expand until it cleans up its act.
The plaza owner is asking to almost double its square footage from 27,135 square feet to 52,675 square feet, but council members said that the plaza has to take care of existing problems that have persisted there.
Vice Mayor Tom Goltzené citing drinking, litter, unemptied garbage cans, poor lighting and "unsavory tenants."
"The whole area looks like a party zone," Goltzené said of the shopping center, located on Southern Blvd. near D Road.
Richard Donofrio with the Wantman Group, representing the 7.96-acre plaza, said the applicant had plans to add two commercial buildings to the existing three. The zoning for the plaza is commercial, and it currently has retail stores and a post office. The applicant is seeking additional commercial retail uses.
The council converted the zoning from the county's commercial zoning to a similar town zoning in 2012. The county approved the original site plan for 57,625 square feet, but the second phase was never completed.
Donofrio said the original square footage was reduced in order to comply with the town's commercial low requirements, rather than the entitled commercial general designation.
He noted that the project was discussed at a workshop with the Planning & Zoning Board in February, and the board recommended approval of the proposal in May.
The main items discussed were tree preservation, outdoor amenities, architectural appeal and crime prevention/security.
Of special concern was a large stand of old trees, for which Donofrio said they removed the corner of a planned building in order to preserve, as well as numerous other original trees and added landscaping. They also created an open-air pavilion.
"This is going to bring the plaza up to current code standards for buffers and interior landscape throughout the entire site," he said.
Donofrio added that the original plan had spaces for six U-Haul rental trucks, which the zoning board wanted removed. "We're going to remove them when we go through the permit process with staff," he said.
The main access point will be the existing one on Southern Blvd., with secondary access off Tangerine Drive.
Crime prevention and security was a hot topic with zoning board.
"We reached out to the sheriff's office," Donofrio said. "We are currently working with them. They surveyed the site and offered lots of suggestions to us."
He said they are also adding lighting throughout the plaza, including the parking lot.
"We're bringing the entire site up to code for lighting," Donofrio said. "This is an issue that the sheriff had when they were out there."
Careful landscape maintenance and video surveillance were also recommended by PBSO, he said.
"We certainly have all intentions of coming up with a security plan with the sheriff's office to add additional security cameras throughout the development," Donofrio said.
Current conditions of approval require the developer to continue to work with the sheriff's office to come up with a plan prior to the issuing of building permits. However, Donofrio asked that the condition be changed to the issuing of certificates of occupancy.
"It's going to take some time to put those lights in, and we're not going to be able to do that prior to getting a building permit," he explained.
The buildings will have wrap-around porches and porticos in line with the town code, and decorative dormers at the corners of the buildings, with recesses to create more architectural appeal, and a metal roof to match the existing metal roof. The open-air pavilion with a wood deck would lend itself to a restaurant or other type of outdoor use.
Planning Consultant Jim Fleischmann said staff recommended approval subject to the conditions, which included consumption of alcohol only within the confines of commercial businesses licensed to sell alcohol.
Councilman Todd McLendon asked whether the alcohol condition would apply to businesses that are there now, and pointed out that the applicant had suggested a restaurant use at the proposed pavilion.
"If you're going to be seating people from the restaurant out in this open space, you're not going to be able to serve them alcohol," McLendon said.
Donofrio said that it was their understanding that alcohol consumption within the premises would include outdoor seating.
Goltzené said that he did not want the pavilion at all. "I think it's a hangout," he said.
McLendon also asked about a fire hydrant on Tangerine Drive, which he felt should be paved to D Road, and would like more pine trees than what was shown because he felt those fit in better with the town.
Resident Ken Johnson said he was not confident that the PBSO would address the security issues at the plaza.
"They show up when there's a problem," Johnson said. "To make that place secure, they need to have 24/7/365 security on that property, because you've got that grocery store a stone's throw from the post office. They need to put a wall around that."
Donofrio said he was aware of problems at the plaza.
"I've been working on this project for several years," he said, and tried to assure council members that a comprehensive security plan would be put in place.
Goltzené said he had little faith that the plaza would change with the renovations.
"The place has been an absolute mess for years," he said. "There's a retention area near the bridge on Tangerine that I don't think has ever been maintained. It's always a junk heap. The whole place is a pig sty."
He added that he agreed with posting 24-hour security.
"As far as I'm concerned, if you don't have PBSO there off duty every moment that liquor is allowed to be served there, I'd refuse to vote for it," Goltzené said. "Your client has maintained an eyesore, a danger and a menace to this community for years."
Donofrio said that he had talked with the owner after meeting with planning staff and that he had contracted an electrician to replace dead lightbulbs in the plaza, hired a landscaper to trim the trees, and had been in contact with a security camera contractor.
"A lot of these things are going to be addressed with the new lighting and landscape," he said, adding that the owner promises to make improvements. "He hears what planning and zoning is saying, and what members of the public are saying, and he's starting to make the efforts that you haven't seen in the years past."
Goltzené still disagreed, saying that outdoor consumption of alcohol at the plaza must be discontinued.
"You all need to go back to the drawing board, and you need to think about how you're going to fix that place," he said.
Councilman Ron Jarriel said drainage problems on the site need to be addressed because the post office tends to flood during heavy rains.
McLendon made a motion to table the request until the applicant can come back with something more agreeable to the council, which carried 5-0.
In other business:
• The council approved a variance for a sign for the new Publix supermarket at the Loxahatchee Groves Commons shopping center of 74 square feet, smaller than the 119 square feet requested but larger than the 60 square feet allowed in the code. Also approved was a variance for a Tractor Supply Company sign at the same shopping center at 74 square feet, an increase from the 36 square feet allowed, but less than the 99 square feet requested.
• The council lowered speed limits on Folsom Road from 40 mph to 30 mph and Okeechobee Blvd. from 45 mph to 30 mph.
• The council enacted a moratorium on the process of applications for animal rescue care facilities until Jan. 20, 2017, to allow review of regulations.
• The council postponed proposed changes to the comprehensive plan regarding commercial uses on Okeechobee Blvd. until it can hold a special meeting in July.