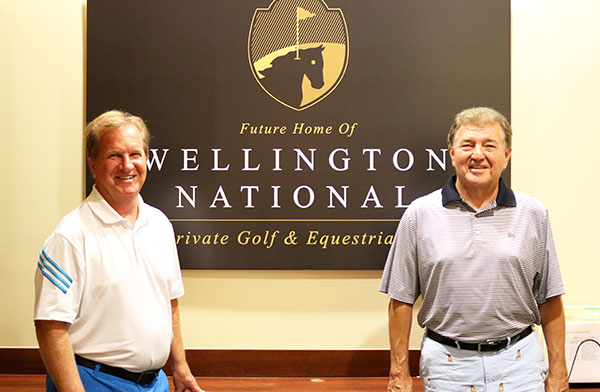 Goodbye Binks Forest Golf Club, hello Wellington National Golf Club.
When the opportunity presented itself to purchase the Binks Forest Golf Club in western Wellington, business partners Chip Smith and Doug Marty knew they had the chance to begin a special journey.
They were so confident in the situation, that the original deal was made on a Saturday in February on a cocktail napkin, Marty recalled.
Of course, a formal contract came shortly thereafter. By March 15, they had closed on the property, which has had more than its fair share of ups and downs over the past 25 years.
Smith isn't new to the industry of renovating golf courses. He has 25 years in the business and has breathed new life into courses many times over with his company Atlantic Golf Management.
One of the more famous golf clubs Smith's company has renovated is the Tournament Players Club in Myrtle Beach, S.C. He purchased it in 2006, and within a few years, it became the area's only Golf Digest 5-star-rated course. "From the renovation standpoint, we really took it to a whole other level," Smith said.
Marty, an avid golfer, has lived in Wellington and Fort Lauderdale for almost 15 years. His background is primarily in business and manufacturing. "This is fun. It's fun doing it. It's not a job. It's like a game," Marty said. "If we can have fun, do something and make the community happy, that makes us happy," Marty said.
The two men, now co-owners of the newly branded Wellington National Golf Club, have been friends for 15 years.
They were drawn to the opportunity of rebuilding a quality course with intrinsic potential. It's an 18-hole Johnny Miller-designed championship course in a sports-focused community known as the equestrian capital of the world.
"The golf course itself has a really good design," Smith said. "We felt like Wellington was in need of a good facility. We saw an opportunity to buy the golf course at a good price and do some renovations to both the course and the clubhouse facilities."
The men have enlisted the design expertise of landscape architect Mark Henegan. Renderings of the renovations are on display in the lobby of the club.
The golf course will be renovated from tee to green, with rebuilding of the tee boxes and sand traps. There will be major renovations on the fairways and greens, and the practice facility will be almost tripled in size, Smith said.
The building facilities will also be renovated. The ballroom will have a makeover. The pool deck, and the building by the 18th hole, will become a bistro with an open-air kitchen. There will be a wine bar added to the clubhouse, and landscaping to enhance the area.
Though golf is a large part of the club, it is not just about golf. It is going to be a true private club with all of the amenities. There will be restaurants, a performance training center for sport-minded athletes, social events and more, Marty said.
By Aug. 1, the new owners intend to have the golf course open, with the club ready Nov. 1 for a full opening.
In late May, Smith said, they began taking memberships. As of Wednesday, they had almost 100 memberships.
The trust conveyed by the new members is because they like the vision, Marty explained.
"They come, they look, they see the architectural renderings. They see the timeline, and they have confidence in what Chip and I can get done, and that we'll be on time and on schedule," he said. "Build it nice, build it right and they will come."
It wouldn't be possible without a strong team. They've added Brett Carman as the new head golf pro, Julie Pickens as the director of management, Aaron and Julie Menitoff for catering, and retained several Binks Forest staff members, including Executive Chef Mark Adams. Atlantic Golf Management's Andy Apple, one of the top agronomists in the country, is also working on the project.
"We have a great, great team of people who are all working together and know that we're on a fast track to get this done," Marty said. "We have some more great hires in store shortly, too."
Smith promised club facilities that are second-to-none in Wellington with championship-style golf along with a social, fun atmosphere will be great for recreation. There will also be a family atmosphere, with junior golf programs and a focus on ladies' golf.
The equestrian community is welcome, Smith emphasized, "whether it's through the social events we have, to some fun we might have that we haven't announced yet, down the road, with the horse community."
Through the new logo and the new name, Smith and Marty are giving a nod of respect toward the equestrian community.
Even before closing in March, the new owners met with Wellington village management and staff to create a good relationship.
The club will be active in charities, community events and the American Junior Golf Association's South Florida chapter. They're also working on bringing international golf to the area.
"It's not the first time we've done this," Smith said. "We know what it takes to make a really good facility. We've worked hard on establishing those relationships with the various contacts."
For membership information, or more information, call Pickens at (561) 718-9656 or visit www.wellingtonnationalgolfclub.com.
ABOVE: Chip Smith and Doug Marty are the new owners of the Binks Forest Golf Club, which has been rebranded the Wellington National Golf Club.