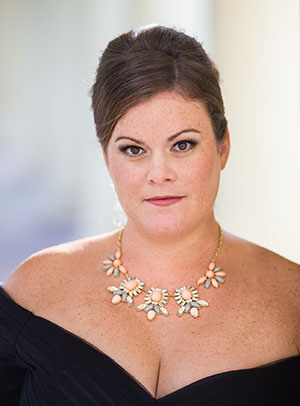 Robyn Marie Lamp, who grew up in Lake Worth and now lives in Royal Palm Beach, will star as Romaine Patterson, the heroine of Not In My Town, a musical drama about the murder of Matthew Shepard to be performed by the West Palm Beach-based startup company Opera Fusion Inc.
The role comes on the heels of Lamp's recent win in the Lois Alba Aria Competition, held by the Soma International Foundation at St. Thomas University in Houston, Texas.
Opera Fusion will present portions of Not In My Town on Friday, June 17, at the Sunshine Cathedral in Fort Lauderdale as part of the Wilton Manors Stonewall Festival. The entire show will be premiered on Saturday, Sept 24 and Sunday, Sept. 25 at Florida Atlantic University's University Theatre in Boca Raton. The premiere will be the culmination of FAU's celebration of International Peace Week 2016.
Not In My Town, written by Fort Lauderdale composer and librettist Michael W. Ross, is the story of the events surrounding the 1998 murder of Shepard, a gay Wyoming college student who was beaten and left tied to a fence, and the positive developments in its aftermath.
Patterson, Shepard's best friend and the leading role in the show, now lives in New Jersey and will attend the gala preview in Fort Lauderdale on June 17. A radio personality and LGBTQA activist, Patterson organized counter-protests — with peaceful protesters clad in angel-wing costumes that blocked hate mongers and their signs — after the Westboro Baptist Church and the late Rev. Fred Phelps began showing up at Shepard's funeral and the subsequent trial of his killers.
"Romaine was thrust into the spotlight, and she was brave enough to speak up, to pursue a message of love and acceptance," said Lamp, a soprano.
Lamp has been watching online videos of Patterson to prepare for her part in Not In My Town, as well as reading Patterson's book, The Whole World Was Watching: Living in the Light of Matthew Shepard.
Opera Fusion's company manager, a volunteer position, Lamp holds a 2012 master's degree in vocal performance from Louisiana State University, and a 2010 bachelor's degree in vocal performance from Florida Atlantic University. She is a two-time regional finalist in Metropolitan Opera National Council auditions. Her most important singing role so far was as the "cover" for soprano Angela Meade in the title role in Lucrezia Borgia with the Caramoor Opera in Katonah, N.Y., in 2014.
Lamp has also sung with the Sarasota Opera, Opera del West, the LSU Opera, the Newburyport Choral Society, the Delray Beach Chorale and other groups. In addition to her music career, Lamp works as a pre-school administrator in Palm Beach County and as a lifeguard and swim teacher during summers.
The gala preview of Not In My Town offers show-only tickets for $38 and VIP tickets for $100 that include dinner at 6 p.m., an open bar, the show at 8 p.m., and a post-performance meet-the-artists reception. Sunshine Cathedral and the Walter Lawrence and Stephen Lewis Performing Arts Center, where the dinner will be held, are at 1480 S.W. Ninth Ave., Fort Lauderdale. Tickets can be purchased online at www.operafusion.org.
"I wrote Not In My Town because I don't think people know what happened after Matthew Shepard died," Ross said. "I want the audience to see that good can come from such a terrible tragedy."
The world premiere will be presented on Saturday, Sept. 24 at 7 p.m. and Sunday, Sept. 25 at 3 p.m. at Florida Atlantic University's University Theatre on the Boca Raton campus at 777 Glades Road.
ABOVE: Robyn Marie Lamp. Photo by Laurel Serra