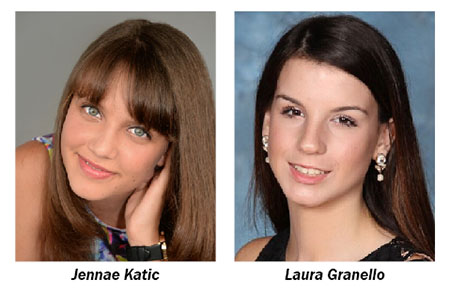 By Jason Stromberg
Jennae Katic and Laura Granello were ecstatic when they heard the news.
"It really didn't process through until a day later because it was so big, such big news," Katic said. "It was a great, pleasant shock."
"Once I got the news, I ran upstairs," Granello said. "I was shaking; I was so excited. It took about three days for the final results to come in."
Katic and Granello were each named first-place winners by the American Protégé Vocal Competition Committee. That means they will perform at 7:30 p.m. on Dec. 17 at Carnegie Hall in New York City.
This marks the fourth consecutive year that two of Mike Soper Music's students will be represented at the prestigious event.
"I am extremely proud of both because both work so hard at what they do," said Soper, the owner and music instructor of Wellington-based Mike Soper Music, a music artist development and production company. "I'm so excited for them. I'm equally excited for the parents as I am for the children, because they work so hard at trying to accomplish this. To see it all come to fruition is the payoff for all of us."
Katic and Granello, both 14 years old, follow in the footsteps of Sivan Ben-David and Victoria Rose Hockton (2013), Adrianna Siena and Daniel Rabinowitz (2014), and Cassie Ortiz and Savannah Rae (2015), who were also invited to the Carnegie Hall stage.
A native of South Africa, Katic performed her go-to song, "Part of Your World," from The Little Mermaid for the committee to see and hear. Soper's artists mailed in a DVD of their performance for the judges.
"That's always my song. It's always a lucky charm. I've always won when I've performed with that song," said Katic, an incoming freshman at the Westminster Academy in Fort Lauderdale. "Each time I've sang it I've gotten progressively better."
"Part of Your World" will go to another level at Carnegie Hall, where Katic will again play the role of the character Ariel from The Little Mermaid.
"It's a song that just clicked with me," Katic said. "It's easy on my throat, and it's within my vocal range. It's such a fun, expressive song. It's going to be the best ever when I get to Carnegie Hall."
It is still to be determined what Granello will sing in December. However, one can bet that it will feature "older music," as Soper called it, or "soul music." The song that sealed the deal for Granello to get to Carnegie Hall was T-Bone Walker's 1947 song "Stormy Monday."
"I like soul music because I can express myself in it," said Granello, an incoming freshman at Martin County High School. "I like to make other people happy with my voice and talent. I've always had a passion for music, and that's really it. I like the blues music because I feel it has more meaning to it. It sounds better to me. The lyrics have a lot of soul in them."
Soper, who loves giving singing lessons and everything else that accompanies Mike Soper Music, will perform alongside Katic and Granello when the two perform on the big stage.
"I get to accompany them at Carnegie Hall. I play the piano for them. It's just the voice and the piano, and that's a beautiful thing," Soper said. "The acoustics are perfect in there. Carnegie Hall is the epicenter of music. It's the most famous stage in the world. There are so many great performers who have performed there."
On the Fourth of July, Granello and Ortiz will do a 30-minute performance at Royal Palm Beach Commons Park. Granello will sing songs by Adele, Amy Winehouse, Cher, 4 Non Blondes and more. Ortiz will sing songs by Sam Smith, Meghan Trainor, Jessie J and Whitney Houston.
"I'm very grateful for the American Protégé Vocal Competition Committee for their understanding on how I could produce such great facial expressions in the DVD video," Katic said. "I recorded two songs for them, 'Part of Your World' from The Little Mermaid, and the other was 'When Will My Life Begin' from Tangled. I think they found those Disney musicals fascinating coming from someone like myself, because when I sing them, I believe I can relate to children very well."
All the time and effort that Granello put into this project has paid off.
"I've worked for a long time on my voice, and I think the committee saw someone with a lot of passion," Granello said. "I think they just saw the hard work and the passion come out. I'm just going to prepare all I can and show them everything that I'm made of."
Katic, a pop artist whose favorite music to sing is 1980s music, featuring Queen and Michael Jackson, brings a lot of energy to the stage. That's one of her greatest attributes. She has a lower-register pitch voice that resonates beautifully.
"She's tall and makes the stage look small, which is good," Soper said. "She takes command when she's on stage. There's a confidence and an air about Katic when she's on stage."
Granello, who goes by the stage name of Laura G. Marie, has a low register voice that reminds you of Cher, Soper said.
"She has an alto voice, yet she can also belt like Ann Wilson," he explained. "Laura was born with power, and we work on that all the time. Breathing properly and supporting herself has been the key to her success."
For more information, visit www.mikesopermusic.com.