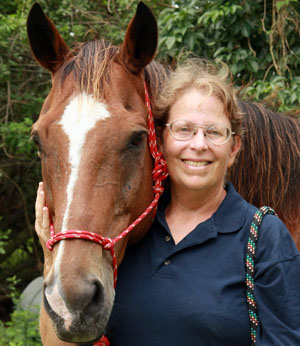 TAILS FROM THE TRAILS
Located at the Palm Beach International Equestrian Center Stadium at 13500 South Shore Blvd. in Wellington, across the street from the Tackeria, the Palm Beach Riding Academy (PBRA) offers the best of both worlds: a homey-feeling, not-too-big riding school, plus world-class amenities, including really nice jumps, great footing and a covered arena.
A full-service barn, the academy offers a variety of training and boarding packages. Monthly benefits include such amenities as daily paired or individual turnout, use of all designated facility rings for independent riding, including the lighted, covered arena as available, and discounts on clinics, camps and other programs.
They have horses available for leasing, as well as the Five Star Horsemanship Certification program and Club PBRA Horsemanship Theory classes. The summer camp sessions run Tuesday through Friday from 9 a.m. to 2 p.m., now through Aug. 5. It's open for children ages 5 to 13, with a maximum of 10 campers per session.
PBRA also offers affordable lessons, private or group, for both children and adults. Riders are grouped compatibly by both age and ability. "I think what's really unique about our program is that we offer riding packages, which include not only weekly lessons," Director Jessica Nichols said. "In addition, our clients have the opportunity to come out to free ride and work on skills on their own, and can also participate in biweekly horsemanship classes where they can get hands-on, unmounted information on all aspects of horse and barn management."
PBRA also offers summer shows, the Tropical Series, which this year runs on June 25-26 and July 23-24. Classes are $25 each, and schooling is $30. The clinician series, which runs the day before each show, provides a unique one-day experience to help fine-tune participants' riding skills and improve their technique, while constructively educating participants on the judge's perspective. The clinic on Friday, June 24 features "R" judge Christina Schlusemeyer, and the Friday, July 22 clinic features "R" judge Joy Lambert. The cost is $100 per session, and each is limited to eight riders.
"The Tropical Series shows offer classes open to all levels of riders," Nichols explained. "We have classes from lead line and walk/trot through pony equitation, children's and adult divisions, along with open hunter, hunter challenge and medal classes. We have a lot of great sponsors, so there are really neat prizes. There's even a free Saturday night exhibitors party. This is a nice way for riders to participate in a show that mirrors the experience of a top-rated show but at a fraction of the cost."
Kelly Jones, a PBRA trainer, loves how the facility is family-oriented. "Everything's very positive," she said. "We're all on the same team, and always here to help the clients. The school horses are fantastic, good souls, easy to teach and learn on. Nothing bothers them. I love them all. The Tropical Series is a lot of fun, very laid-back. Everyone loves it, especially the party and the prizes. You have a fabulous venue without the hustle and bustle of a big rated show. It makes you remember why you do what you do."
Staci Rosner and her husband, Paul McKesson, board their two horses at PBRA. Their 9-year-old daughter, Riley, also rides there. "This is an amazing facility," Rosner said. "The staff is excellent. Riley is looking forward to attending camp this summer. I'm going to ride in the Tropical Series shows, in whatever class Jessica throws me in. I think they should have a class for old ladies who get hot easily. That would be the perfect class for me."
Lexi DeBello, the barn manager, moved to South Florida for the weather and has been working at PBRA for a year.
"Everyone is so nice here," she said. "The clients, the staff, the horses. It's a welcoming place. The facility is top-notch. There's the covered arena, a grass field, access to the show grounds and lots of trails. I also like how they really teach horsemanship… Everyone's always laughing and having fun. We sit around and talk at the end of the day. It's one big family."
Nichols also likes working at PBRA. "We enjoy serving not only the seasonal show crowd that comes in for WEF, but also the local community. People see us and automatically think we're all about big shows, but we love teaching riders of all abilities, even beginners who just want to learn how to walk, trot and canter. PBRA is a great place to affordably learn all aspects of horsemanship," she said.
Nichols enjoys the teamwork at PBRA.
"Everyone's on the same page. And we help our clients become well-rounded horsemen. We're not the barn where you show up and a groom hands you a horse all ready to ride. Everyone learns the basics, like grooming and tacking up. These are skills that last a lifetime and make for a more complete experience, not to mention a better horseman," she said. "We're always willing to work with clients on their individual goals. We tailor our lessons to meet or exceed expectations. We have about 14 school horses of all sizes and abilities, and they can give any rider confidence learning specific skills or help them move up to the next level."
For more info., visit www.pbra.coth.com or call (561) 793-5867.