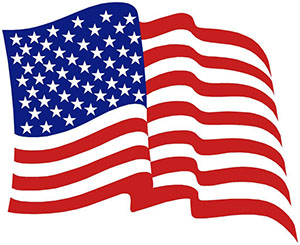 By Hailey George
The time for Independence Day festivities has almost arrived, and both Wellington and Royal Palm Beach will be celebrating the Fourth of July with a full day of activities.
The Village of Wellington will start the fun on Monday, July 4 at the Wellington Aquatics Complex, where people can enjoy a patriotic pool party from noon to 5 p.m. There are scheduled activities and games throughout the day. Regular admission will apply.
After the pool party, the activities will shift to Village Park on Pierson Road from 6 to 10 p.m.
The celebration will include inflatable obstacle courses, free pony rides, bounce houses and slides, a rock wall, free face painting, a petting zoo, games, bingo, an Eagles tribute performance by the Long Run band, vendors, food trucks, fireworks and more.
"The newest thing we have is an addition of the crazy games like human bowling and tire races. We are also having our fair slide and our rock wall," Wellington Community Programs Manager Michelle Garvey said.
The Kids Fun Zone has numerous activities for children to enjoy, like boot camp obstacle courses, slides, a coconut tree climb, bounce houses and the Superhero Challenge.
Games will include parachute madness, hopper ball races, giant human hamster ball bowling, tire stack races and a gladiator obstacle course. There are also more traditional games for everyone to enjoy. These include sack races, hula-hoop contests, watermelon eating contests, an egg toss, giant tumbling towers and cornhole tournaments.
Food trucks that will be there include Aitola Mia Famiglia, Beas Heavenly Wings, Cheesezilla, Churrasco Grill, Flavor of Munich, Ice Cream Express, Jjacks Grill, Karate Kitchen, Kona Ice, Meatball Joes, Meatheads BBQ, Munchies Snack Shack, Oasis of the Foods, Philly Grill, Que Pincos Y Mas, Rollin' Asian, Sweet Wheels, the Coffee Girlz, the Minivan and World Fusion.
The Wellington celebration will conclude with the musical performance and the fireworks show.
While parking is available at Village Park, it is expected to fill up quickly. A free shuttle service will be available from the Palm Tran bus stop area at the Mall at Wellington Green to Village Park from 5:30 p.m. to 10 p.m. It is suggested that guests bring their own seating.
"We are excited to offer an event for the community once again. We think it will be a great event," Garvey said.
For more information on the celebration in Wellington, call (561) 791-4000 or visit www.wellingtonfl.gov.
Royal Palm Beach will hold its Independence Day celebration at Royal Palm Beach Commons Park, located off Royal Palm Beach Blvd. at 11600 Poinciana Blvd.
Royal Palm Beach's Star Spangled Spectacular will be a two-day event starting on Sunday, July 3.
The first day will have a kids fun zone, arts and crafts vendors, and food from various food trucks. The kids fun zone will be accessible from 5 to 9 p.m., and wristbands can be purchased for $5 each. Entertainment includes Jimmy Stowe and the Stowaways and a Jimmy Buffett tribute band, which will begin at 7 p.m.
Monday, July 4 will provide even more fun starting at 1 p.m. The kids fun zone will be open from 1 to 8 p.m., and requires the purchase of a $10 wristband.
The event will have shopping, an arts and crafts show, an interactive DJ, games and more. There will also be a variety of tournaments, including fishing at 6 a.m., golf at 8 a.m., volleyball at 10 a.m. and cornhole at 4 p.m.
"We have the Firecracker Golf Tournament at Madison Green at 8 a.m. It will be $75 per person. It is a foursome scramble tournament, and there will be prizes," Community & Cultural Events Superintendent Carlos Morales said.
In addition, there will be great live entertainment.
"We have a good list of entertainment," Morales said. "We have four bands."
The Petty Hearts, a Tom Petty tribute band, will perform at 2 p.m.; the Boss Project, a Bruce Springsteen tribute band, will take the stage at 4.p.m.; Turnstiles, a Billy Joel tribute band, will play at 6 p.m.; and 42, a tribute to Coldplay, will perform at 8 p.m.
There will also be many meal options from the Food Truck Invasion. With more than 20 different food trucks to choose from, there will be something for everyone.
The celebration will end with a bang. Zambelli Fireworks International will do a fireworks show at 9 p.m. Activities will continue until 10 p.m. Those planning to attend are encouraged to bring blankets and/or lawn chairs. Parking will be available at Commons Park, as well as off-site at Village Hall and the Royal Palm Beach Cultural Center.
"It's all free parking," Morales said. "We invite people to come early. We have pavilions at the park. There will be grills if you rent a pavilion. People can bring their own tents, but are in a limited area."
For more information about Royal Palm Beach's Star Spangled Spectacular, call (561) 790-5124 or visit www.royalpalmbeach.com.