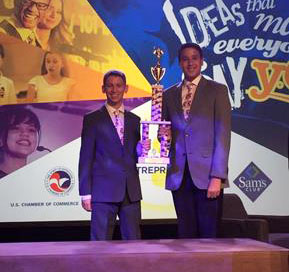 Winners from the Young Entrepreneurs Academy National Saunders Scholarship Competition were announced on June 13 at America's Small Business Summit.
Seven national finalists convened on June 13 to pitch their business ideas and compete for college scholarships. The finalists were selected out of more than 2,000 middle and high school students nationwide who participated in YEA's groundbreaking 30-week entrepreneurship course in which they generated business ideas, met with legendary entrepreneurs, wrote business plans, pitched to a panel of real investors, got startup funding and launched their own businesses.
At the national competition in Washington, D.C., three student businesses came out on top, winning college scholarships with a grand prize of $30,000 to the Saunders College of Business at the Rochester Institute of Technology, along with business startup packages from Toshiba and BlueTie.
Ethan Shapiro and Ryan Shnider, of the Central Palm Beach County Chamber of Commerce YEA class, pitched their company, Snap'd In, a customizable and changeable cell phone case which allows teens to change their case to reflect new interests and hobbies.
Shapiro is a high school freshman at the American Heritage School, while Shnider is a freshman at Palm Beach Central High School. The boys placed second in the nation with one judge even describing their presentation as "smoother than a fresh jar of Skippy peanut butter."
In the past two years, Palm Beach County students have placed first, second and third at the national competition, with an additional first-place finish in 2012, for a remarkable total of four top national contenders since the program's inception in 2004.
ABOVE: Ryan Shnider and Ethan Shapiro.