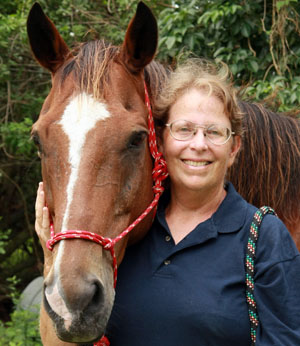 TALES FROM THE TRAILS
Sandi Johnson, owner of the Jupiter Equestrian Center, has a guilty pleasure.
"I love window-shopping online for horses," she said. "It's very addicting. I want to save them all. It's hard for me to restrain myself."
One site in particular drew her in: the Facebook page for the kill pen at Bastrop, La. (www.facebook.com/bastroplouisianakillpen). It is addictive, but it's also hard to watch. They showcase each horse with running commentary from the rider. Nice horse after nice horse, all breeds, ages, sizes and colors. And all destined for a Mexican slaughterhouse if not bought by someone else. The lucky ones are marked "Safe and Sold." The rest…
Last October, one mare caught Sandi's eye, a 10-year-old palomino whose shipping date was fast approaching. Sandi kept watching her video. The mare had three days left, then two. On the day she was due to ship out at noon, the truck broke down on the way to Bastrop; a slight reprieve.
"I couldn't wait any more," Sandi said. "I called and spoke with someone who had spent some time with her. He said she was a real sweet mare, even had her Quarter Horse registration papers. I bought her for $900 and paid through PayPal. They sent her to a quarantine barn for five days, then pulled a health certificate and a Coggins, and I organized a hauler to ship her here. All in all, she cost me around $2,000. Lulu Lemon was a bit thin. In no time, she put on weight and had the most gorgeous dappled coat."
Sandi documented Lulu's progress on her Facebook page. A friend and former riding student, Sarah Moore, watched Lulu's progress and became curious about the kill pen site. She started watching the horses, and one day she spotted one that looked oddly familiar.
Sarah works at Dark Horse Tack in Royal Palm Beach. The owner, Cecelia McDaniel, has four photos up on the wall behind her desk of two horses she used to own. One, a gray Arabian mare, had a distinctive snip, a white marking, on her nose. Sarah saw the photo every day at work, and darned if one of the horses at Bastrop didn't have an identical snip. She told Cecelia, who shook her head.
"Impossible," Cecelia said. "That horse is dead."
Even now, all these years later, Cecelia tears up at the thought of what happened. Eight years ago, she and her husband, Christopher, moved from Jupiter to Ocala with their four horses. "I was only riding two," Cecelia recalled. "The other two, Ladybug and Crystal, were lawn ornaments. My farrier offered to keep them on his property. He told me he had 2,500 acres nearby, and I could turn them out with his herd. He wouldn't even charge board, and I could visit anytime. He seemed like a nice guy, very punctual and polite. I'd known him for two years, so I trusted him."
That turned out to be a mistake.
"Unbeknownst to me, he'd used this ruse with other horse owners," Cecelia said. "When I went to visit them, the address he'd given me had no fences, no pastures and no visible horses. I called him. He said he was in Texas, and I'd gotten the address wrong. He gave me another one, but the gate was locked. I saw some cows and horses, but not mine."
However, she kept trying.
"I arranged to meet him there when he said he'd be back in town, but he called and said he'd hurt his back while shoeing a horse and was on pain medication and would call when he was able to drive. He assured me my horses were fine," Cecelia said.
From there, the story descends into horror territory, but ends with a happy twist.
"For three months I heard excuse after excuse, getting more and more worried and suspicious. I finally called the sheriff, who seemed surprised… He asked if I knew another woman. I didn't, but she had called and filed a similar report on this guy the day before. She had lost her farm to foreclosure and turned over 17 warmbloods, then gotten the same runaround," Cecelia explained. "The farrier was arrested and ordered to give us the names of the people he'd sold our horses to. He didn't remember who had bought Ladybug, but someone named Larry had bought Crystal. I called him. I'll never forget what he said. He told me that he hated that horse and had to chase her with a pickup truck to run her enough to get a halter on her. When she got sick and collicked, he didn't think she was worth saving, so he shot her. I collapsed when he told me that."
As the years passed, Cecelia and Christopher moved back to Jupiter.
"One day I heard from a woman who had bought Ladybug. She'd read about the case in the newspaper, and she gave her back two and a half years after I lost her," Cecelia said. "That was nice, but I couldn't get over what had happened to Crystal. Even though I knew she was dead, every time I saw a gray horse, I had to look, but it was never her."
Meanwhile, Sarah kept looking at that horse in the video, and the more she looked, the more certain she became.
"When Sarah told me about the horse on Facebook, I didn't want to look and be disappointed again," Cecelia said. "Then another friend called and said the same thing. I watched the video 30 times. I stopped it when they showed her face, and it all matched: the conformation, the size and that distinctive snip. I called my husband, sobbing. He said whatever it cost, we'd bring her home. Her kill date was May 5, 2016. That would have been my father's birthday, if he was still alive. I felt like he pulled some strings. Crystal came home on May 8, and I can't say how grateful I am. It's my fairy tale come true."
Sandi, who had started the whole unlikely chain of events, is amazed.
"It's so cool the way this turned out," she said. "I saved one horse, which led to another horse getting saved. These are really nice horses in terrible circumstances through no fault of their own. I hope more people will look at this site and maybe find a horse to bring home and love."