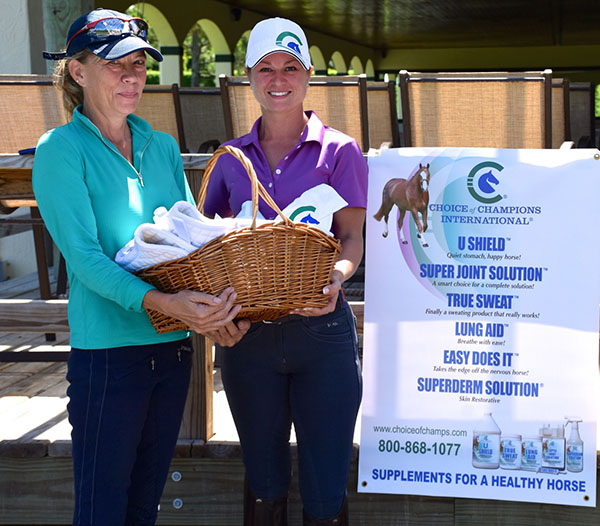 Dressage riders from around Wellington came together on an especially hot Florida morning this month to hone their skills with USDF gold medalist Devon Kane at a clinic hosted by Gold Coast Dressage Association (GCDA) and sponsored by Choice of Champions International.
The riders, of varying levels, were able to learn valuable information from Kane, an international competitor, at Diamante Farms, which is a year-round, top notch training facility just minutes from the Adequan Global Dressage Festival and the Winter Equestrian Festival in Wellington.
Kane, who hosts successful clinics across the United States, was thrilled to host this event at Diamante Farms, which she and her mother, Terri Kane, own.
"I think that clinics are great because you can really help people with a specific issue," Kane said. "It is a unique opportunity for me to really make a difference for the participants and give them something to take home and work with."
Kane has trained under three Olympians and has earned a slew of impressive titles in prestigious dressage arenas around the world — all before the age of 30. She has been unstoppable in the show ring ever since she stepped into the spotlight as the individual gold and team bronze medalist at the North American Junior and Young Rider Championships in 2007. Kane earned the title of 2014 U.S. Dressage Finals Grand Prix Champion with her self-trained horse Destiny, and represented Team USA at the Nations Cup CDIO5* in Falsterbo, Sweden, in 2015. She is currently bringing several other horses up the ranks, with which she has been scoring over 70 percent at major U.S. horse show venues this year.
As well as being a successful rider and sought-after clinician, Kane is the head trainer at Diamante Farms. The property was perfectly suited for hosting the GCDA clinic, with a naturally bright and airy covered arena that looks over the impeccably manicured property. Kane was happy to spend her day with the horses, riders and auditors that took part in the GCDA clinic. "It's always fun to work with different people and horses and meet new combinations," she said.
Rider Anna Niehaus and her horse Ziggy, a 10-year-old Oldenburg gelding, received even more than Kane's instruction by participating in the clinic. Niehaus, who is well known in the area as a local Realtor, and Ziggy had a difficult start to their hour-long session with Kane, as Ziggy adjusted to his new surroundings.
The pair finished on a high note, though, and Niehaus was named the Most Improved Rider of the clinic. As Most Improved Rider, she earned a Choice of Champions International gift basket complete with an embroidered saddle pad, hat and popular Choice of Champions products like Super Joint Solution and Easy Does It.
"Anna's horse was a little hot and tricky, and she really stuck with it and got him through some of the issues he was having," Kane said. "She did a great job at exposing him to new things while still keeping him calm, and throughout the ride she achieved some really nice results."
Kane was grateful to her own sponsor, Choice of Champions International, for donating the Most Improved Rider award, and to the Gold Coast Dressage Association for partnering with her to host the clinic. The GCDA is an educational organization dedicated to supporting local and national amateur dressage, as well as growing the knowledge and public awareness of animal care and welfare. GCDA's efforts include providing educational programs, clinics, shows and seminars intended to promote classical riding. The Kane family was proud to host a GCDA clinic at their family farm. Giving back to the Wellington community has always been an important part of Diamante Farms' mission.
For more information about Devon Kane and to find out how you can benefit from her experience, talent and knowledge at a clinic, visit www.diamantefarms.com or e-mail diamantefarms@icloud.com. To learn more about the Gold Coast Dressage Association, visit www.gcdafl.org.
ABOVE: Anna Niehaus (left) won the Most Improved Rider prize, sponsored by Choice of Champions International, at the Gold Coast Dressage Association Clinic with Grand Prix trainer Devon Kane (right).