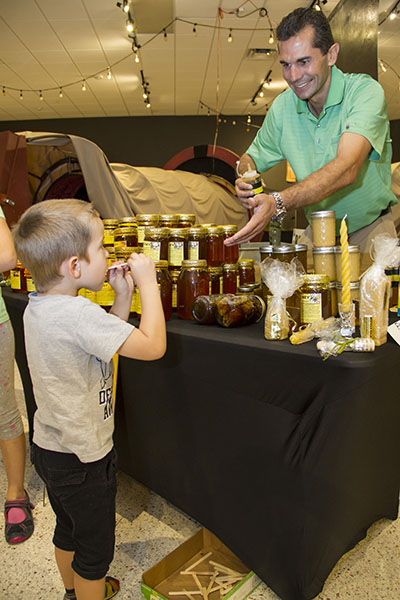 The South Florida Science Center & Aquarium, in partnership with the West Palm Beach Mayor's Office of Sustainability, are teaming up to spread sustainability and positivity at the seventh annual e4 Life: Green, Health & Wellness Expo. With tips, samples, giveaways, tastings and more, guests will experience the sights, smells and sounds of positive living from 10 a.m. to 4 p.m. on Saturday, July 23.
"Science is critical to understanding the power of health and wellness," Science Center CEO Lew Crampton said. "Which is why we are proud to be hosting the always popular e4 Life: Green, Health & Wellness Expo. In addition to hearing about healthy tips, guests can also learn about key sustainability practices, which keep us and our planet healthy for years to come. Our participating vendors and sponsors are top-notch, and visitors will surely delight in all of the samples, tips and quality experiences. We are grateful to continue partnering with the West Palm Beach Mayor's Office of Sustainability to help spread this important and science-based message."
During the day-long event, the Science Center's regular exhibits will serve as a backdrop for booths featuring FPL, Braman Motorcars, ABM, the Solid Waste Authority, RGF Environmental and more. Activities include healthy food preparation demonstrations, gardening workshops, information about carbon footprint reduction, energy efficiency, transportation, a BMW i3 EV on display, environmentally preferable purchasing and other sustainable/conservation subjects.
Representatives from the Palm Beach Zoo will be on site to discuss their conservation programs. In addition, guests will be able to take a photo with a unique "Lamborgreenie" created by the masterminds at RGF Environmental. Based off a Lamborghini Diablo, this rare car was transformed into an eco-friendly, all electric driving machine. The RGF "Lamborgreenie" boasts an impressive up to 100 mph speed, a fully integrated computer system, two hours of run time with 144 volts over 1,000 amps and more.
"This year's partnership with the South Florida Science Center for e4 Life is even more important than ever, as Mayor Jeri Muoio just established a West Palm Beach Community Greenhouse Gas reduction target of net zero by 2050," said Penni Redford, manager of the West Palm Beach Mayor's Office of Sustainability. "We welcome everyone to check out our booth at the event to learn more."
In order to spread sustainability, the West Palm Beach Mayor's Office of Sustainability will give out trees and raffle off rain barrels.
The e4 Life: Green Health & Wellness Expo is included with paid Science Center admission, and West Palm Beach city residents and city employees receive 50 percent off admission with a valid ID. Admission to the South Florida Science Center is $15 for adults, $11 for children ages 3 to 12, and $13 for seniors over the age of 60. Science Center members and children under 3 are free.
The South Florida Science Center & Aquarium features more than 50 hands-on educational exhibits, a 10,000-gallon fresh and salt water aquarium, a digital planetarium, a conservation research station and more. The current summer exhibit, Grossology, takes visitors on a tour of their bodies.
Located at 4801 Dreher Trail N. in West Palm Beach, the Science Center is open Monday through Friday from 9 a.m. to 5 p.m., and on Saturday and Sunday from 10 a.m. to 6 p.m. For more info., call (561) 832-1988 or visit www.sfsciencecenter.org.
ABOVE: A small scientist samples the sweeter side of science and sustainability, in the form of a honey sample.