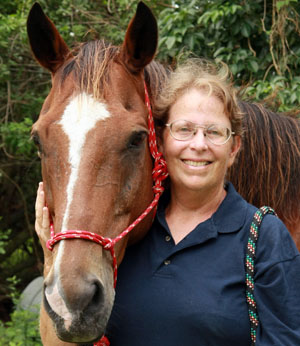 TALES FROM THE TRAILS
It's summer in South Florida, and if you ride, your options are limited to early — before the heat builds — or later on, after it's cooled off a little. Many of the local schooling shows take a hiatus during the tough summer months, but there are still some nice shows out there. The Palm Beach County Horseman's Association will hold its shows under cover at the Jim Brandon Equestrian Center on July 30-31 and Aug. 27-28.
Equestrian Sport Productions hosts its summer series shows in the Van Kampen covered arena at the Global Dressage Festival grounds. The arena is split in two for the competition, with warmups in one half and the course in the other. A walkway between the two provides room to stand and watch, or spectators can sit in the bleachers.
The shows, which run Friday through Sunday, began in June, which is when I visited on Friday, June 3. Diana Wightman of Wellington watched from the bleachers. She usually shows, but was feeling a bit under the weather that weekend, so had come along to support friends.
"I love the summer series," Diana said. "I'm glad they offer it, especially with the covered arena. These shows are very high-quality, but a lot more laid-back, relaxed, and less chaotic than the Winter Equestrian Festival. It's a terrific place for a green horse or inexperienced rider to gain some experience. Especially during the summer, when there's not so much going on here in town, the summer series is your best bet."
Abbey Perry, 12, had traveled with her barn, Kris Di Carlo Equestrian in Bradenton.
"We came for the spring series as well," she said. "And we'll be back for the fall series. We love it here. It's nice and quiet, with good, tough competition."
Her horse, Classic Damata, is a Dutch Warmblood that she has had for nine months.
"I got him just to do jumpers. I used to do hunters, and now I'm doing low jumpers," Abbey said. "This is a good way for us to move up to bigger jumps. That's what I love, jumping. The higher, the better."
Abbey's mother, Tiffany, sat beside her on the bleachers. "I ride, but I don't show," she said. "We love traveling here with the other barn families. The camaraderie of the kids is quite nice. Everyone supports and respects each other. This is one of our favorite venues."
Another barn member, Mattison Harllee, 16, also was watching. She had shown in the low children's hunters earlier that morning.
"I love how small and organized the show is," she said. "You don't have to worry about finding a golf cart to get to a ring that's a half-mile away. Everything's close at hand."
Her horse, Jasper, an American Warmblood, had injured himself and stayed home. Instead, she showed with Atterbury, one of the barn's sale horses.
"This is a really nice way to put some more miles on him and to give me more experience. It benefits us both," Mattison said. "The competition is a good challenge. The courses make you think, but they're doable. And I love the covered arena."
Brooke Poindexter, 17, and Lindsay Chamberlain, 16, had also come along with the barn. It was Brooke's first time here, and she also enjoyed the compactness of the show. "Everyone's nice," she said. "And it's not too intimidating. My horse likes it, too. He hasn't spooked at all."
Lindsay had been here before and also commented on the show's friendly atmosphere. She said her classes contained about 22 riders, which was a nice amount of competition but not overwhelming.
Shai Tertner and Jordan Hill, both of Wolfstone Stables in Wellington, had brought along some young horses.
"I love how calm this show is," Jordan said.
"The covered arena saves the horse a lot of energy," Shai added. "And the relaxed atmosphere helps them focus on the job. It's a great venue for less-experienced horses to gain experience and move up. Jordan's horse just turned 5. This is a perfect venue to practice in a real show atmosphere but without too much pressure. The summer series allows us to fine-tune our horses so they'll be ready when the rest of the world arrives in the winter."
Shai started showing at the summer series last year.
"The courses are perfect — technical enough to help a horse learn, but not too intimidating," she explained. "It's also nice that, being here, you get a real feeling of community with other local riders. I feel like the show management goes out of its way to support the locals who stay here all summer. It's a great use of the resources, especially this covered arena."
For more information, visit www.pbiec.com or call (561) 793-5867.