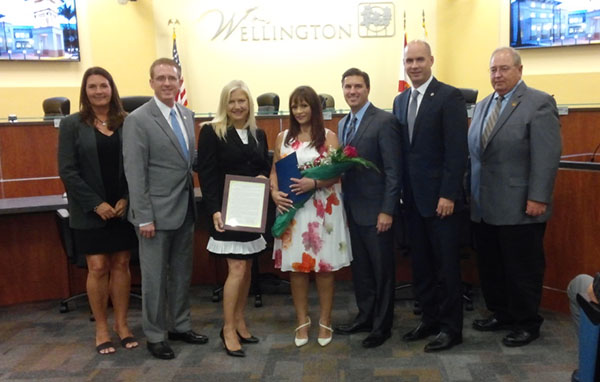 The Wellington Village Council and Florida Association of City Clerks honored retiring Village Clerk Awilda Rodriguez for her 32 years of service on Tuesday.
Mayor Anne Gerwig read a proclamation recognizing Rodriguez on her June 30 retirement. Rodriguez began her career in 1984 as a computer operator in the accounting department when Wellington was still run by the Acme Improvement District, the village's pre-incorporation government.
She later held several different positions, including administrative assistant and general services manager before becoming the first official village clerk after the village's incorporation in December 1995.
Rodriguez's other responsibilities included elections supervisor for the village and official records custodian. She was also responsible for maintaining the official policies and procedures for the village.
Rodriguez was instrumental in implementing a global management information system, document management system and agenda management system. She also served as liaison to the council for its advisory committees.
"We will greatly miss her for her historical knowledge and extend our best wishes to her as she begins her retirement," Gerwig said, reading from the proclamation.
Rodriguez expressed her appreciation to the Association of City Clerks for being there that evening, and all the elected officials she had served with, fantastic co-workers and the leadership of Village Manager Paul Schofield.
Schofield said he came to the village about 15 years ago in a position subordinate to Rodriguez.
"I was promoted to a position that was equivalent, and I have for the past nearly nine years been her manager," he said. "I have never met in my career somebody who was absolutely irreplaceable. She comes as close as anyone I have ever met."
Schofield said that in all the years he has been at the village, Rodriguez has never given him a reason why she couldn't do something.
"She has found a way to do the things that were difficult, even impossible," he said. "She has never blamed anybody else. When other people couldn't find a way to do something, Awilda always could, and I really didn't appreciate how good she was until she worked for me. Most of the things that went wrong in her office didn't go wrong because of her. They went wrong because of me or some other senior manager. But she never once said, 'I told you so.'"
Delray Beach City Clerk Chevelle Nubin, president of the Florida Association of City Clerks, accompanied by Belle Glade City Clerk Debra Buff, director of the Southeast District of the Florida Association of City Clerks; North Palm Beach Village Clerk Jessica Green, president of the Palm Beach County Municipal Clerks Association; and Royal Palm Beach Village Clerk Diane DiSanto read the association's resolution recognizing Rodriguez on her retirement and her 32 years of professionalism and dedication.
"It is an honor to be here tonight to present this resolution," Nubin said. "Awilda, we would like to wish you all the best in your retirement."
Vice Mayor John McGovern said he hoped that residents, when they see her, would take a moment to express their appreciation for her service to the village.
"The commendation that we gave to her tonight is probably far less that what she really deserves to sum up her 32 years of service here," McGovern said.
Gerwig said Rodriguez has left the village with some good people to do her job, but it would be difficult to replace her presence in the village. "We have some great representatives from the clerk's office, but Awilda will be very well missed," she said. "She was the always-here face of Wellington."
ABOVE: Village Clerk Awilda Rodriguez (center) is honored by members of the Wellington Village Council and Village Manager Paul Schofield (right).