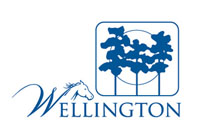 Wellington officials have proposed a fiscal year 2016-17 budget of $89.6 million, up $4.2 million from the current year's $85.5 million, enabled largely by a 7.8 percent increase in property values, as well as increased revenue sharing.
"I think it's a really good budget," Director of Administrative & Financial Services Tanya Quickel said. "It's very stable, and there's lots of great projects in it. There is a big focus on our infrastructure, the roads, maintenance of everything and public safety."
The Wellington Village Council is scheduled to set the preliminary property tax rate, currently proposed at 2.44 mills, 0.01 mills lower than the current year's 2.45 mills, on Tuesday, July 12.
The revenue increase will go primarily to maintenance for roadways, governmental facilities and the surface water management system, increased public safety with two additional deputies, water and wastewater facility replacement and improvements, and additional staffing for the new Wellington Community Center to be completed next month.
"We are increasing the budget overall," Quickel said. "The biggest areas of increase include the higher investment in our infrastructure. We're adding two additional deputies, and we also have a 2 percent increase in the PBSO budget. That brings the PBSO almost to a $9 million contract with Wellington."
Aside from the new community center, the budget also provides for in-house programming at the Wellington Tennis Center.
"We have a lot of emphasis on the new community center and bringing tennis in-house, which we budgeted for last year, but it did not come in-house. It will be in-house starting Oct. 1," she said.
The grand opening for the new community center is tentatively set for Aug. 6.
"We'll have it open a few weeks before that, but that's the official grand opening," Quickel said.
The new budget adds a total of 13 new positions throughout different departments.
"Most of those positions are really in two areas, the community center programming and maintenance," she explained.
Although maintenance takes care of all village facilities, the demand on that department will be increased due to the tennis and community centers.
A proposal to return to a five-day workweek with expanded hours would add about $295,000 to the budget.
"We're still on four days, but the budget does include going to five days, Monday through Friday," Quickel said, adding that hours will remain 7 a.m. to 6 p.m. four days a week, and be 8 a.m. to 5 p.m. on Friday. "There are really five positions associated with that, as well for the additional hours, because that means we'll be open 53 hours a week."
She said capital improvements are an important part of the budget. They include drainage improvements at the intersections of Big Blue Trace and Barberry Drive, and Big Blue Trace and Wiltshire Village Drive, at $750,000; extension of the turn lane at Pierson Road and South Shore Blvd. at $250,000; repair and replacement of the Peaceful Waters Park boardwalk at $400,000; completion of Hawthorne Park at $225,000; and lighting and shade improvements at Scott's Place Playground at $120,000.
The budget will move some of the Acme Improvement District staff from the Acme budget back into the village's general fund budget.
"It's really moving the parks out of Acme back into the general fund," Quickel said. "They were put there several years ago, and now we're moving them back."
Total ad valorem revenue would be $17,353,978, which is $1,193,483, or 7.4 percent, higher than the current year. The revenue value of 0.1 mills will be $711,000 in 2017, compared with $655,763 in 2016.
"Overall, the utility rates are slightly decreased or staying the same," Quickel said. "The millage is down a hundredth of a mill, but most people will probably see an increase in their annual tax because of the property value increase."
Solid waste and containerized waste collection will go down $5 per customer, at $135 per residential pickup and $100 for containerized pickup. The potable water and wastewater rates will remain unchanged at $18.22 for the base rate for potable water and $17.38 for the base rate for wastewater.
The most significant revenue increases include an ad valorem increase of $1.2 million at the 2.44 millage rate, and $1.1 million in intergovernmental revenue from the half-cent sales tax, state revenue sharing, gas tax and Community Development Block Grant funding.
The proposed budget will finance 315 full-time positions, 90,180 part-time hours and two interns. Capital projects and departmental budgets will be available in a few weeks. Public outreach is also beginning, with community forums and surveys. Wellington's Budget Challenge is available online at www.wellingtonfl.gov/survey.