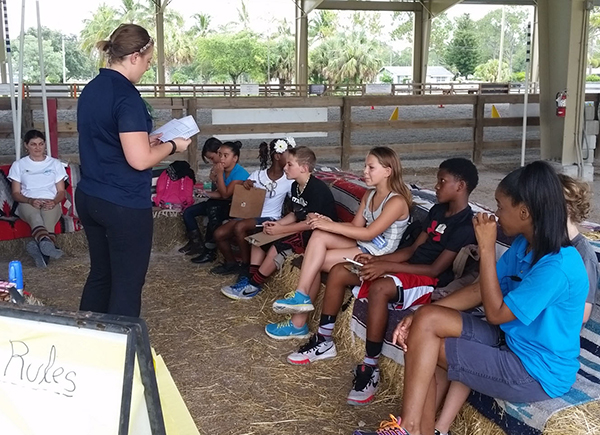 The Vinceremos Therapeutic Riding Center has extended its Taking the Reins program to local members of the Boys & Girls Club throughout the summer as part of summer camp activities. This program utilizes horses to help develop communication and learning skills by highlighting the importance of listening, exercising clear communication, and building trusting relationships.
The program is divided into two phases over a two-week period. Phase one focuses on respect, trust and communication, conflict resolution and building a bond. Participants develop awareness of different relationships and communication styles, and how it affects the way you interact with others.
Phase two is all about being part of a community and addresses leadership, taking responsibility and team building. Together with their horses, participants role play about what healthy leadership looks like and what it takes to be a responsible team member.
"We first became aware of this type of program when it was offered at the University of Virginia to build adult leadership skills. It seemed that learning these skills at an earlier age would provide benefits that would last a lifetime, so we set out to build a program here at Vinceremos," said Susan Guinan, director of development at Vinceremos. "This is the third year of the program. It has grown from a one-day session to a program of six sessions over the course of two weeks."
The first group of 45 members from the Boys & Girls Club has participated in the summer program, but the Wellington club hopes that this can be a program for members during the school year as well. "The kids are loving the program," Wellington Club Director Kenda Peterson said. "They have learned so much about themselves, each other and how to treat each other. They have gained confidence, and that is what Boys & Girls Clubs is all about."
Vinceremos founder Ruth Menor is proud of the partnership between the two organizations.
"There have been many organizations that have wanted to participate in the program, but transporting the kids to the program has been a challenge. Gaining commitment from those who are responsible for the children has also been difficult," Menor said. "The collaboration with the Boys & Girls Club has been very helpful."
ABOVE: Vinceremos staff member Deb Levinsky provides a clinic to club members about respect and boundaries.