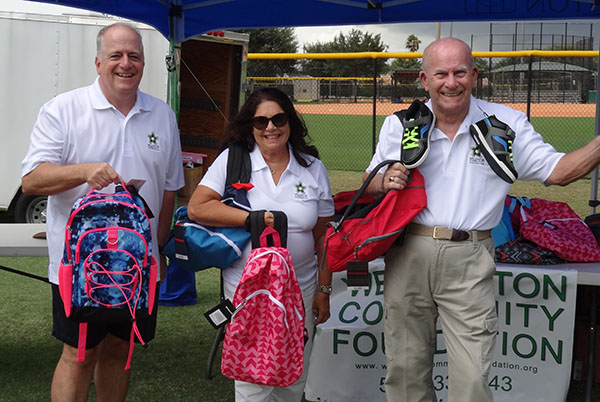 The Wellington Community Foundation recently partnered with the Village of Wellington to host its annual Back to School Block Party at Tiger Shark Cove Park on Saturday, Aug. 6.
The foundation sponsored 200 backpacks filled with back-to-school supplies in cooperation with Walgreens. "This is one of those events where we actually get to see the smile on students' faces first hand as they pick out their favorite color backpack," Foundation Chair Tom Wenham said.
Board Member Maggie Zeller agreed. "Working with the Village of Wellington's staff was such a pleasure, and we hope to participate again next year."
Although rain delayed the start of the event, bad weather could not stop the community spirit.
"Giving back to the community is why I came on board," Board Member Mickey Smith said. "I agreed to serve because it is about the community coming together to help our neighbors, and this event epitomizes that."
For more information about the Wellington Community Foundation, call (561) 333-9843.
ABOVE: Wellington Community Foundation board members Mickey Smith, Maggie Zeller and Tom Wenham get ready for students to come by and choose their backpacks.