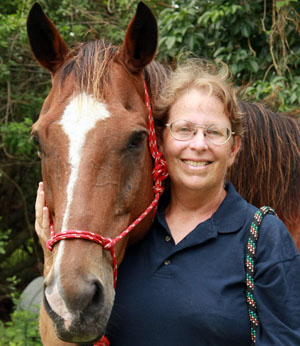 TALES FROM THE TRAILS
Bobbi Rottman, president of Eques Solutions, a marketing and promotional company specializing in the equestrian market, works with Wellington's Palm Beach Equine Clinic. One day, she had a great idea.
"I love hearing clients share cool stories of their positive experiences dealing with Palm Beach Equine," she said. "I thought it would be fun to give them a forum where people could go to read them. Offering an incentive made sense, so we organized a contest."
So was born the first-ever Palm Beach Equine Clinic Story Contest. The entry period started June 1 and will close Aug. 31. Submit your best heartwarming story about your horse and your experience with the Palm Beach Equine Clinic and its veterinarians for a chance to win a Winter Equestrian Package. On Sept. 1, a panel of judges will pick the top three stories and post them on Facebook, where friends will have 24 hours to vote for their favorite story. The author of the story with the most "Likes" and "Shares" will be the winner.
The prize is a Winter Equestrian Package including VIP tickets for four people to attend the following 2017 events: a Friday night of dressage at the Adequan Global Dressage Festival, a Saturday night of show jumping at the Winter Equestrian Festival and a Sunday afternoon of polo at the International Polo Club Palm Beach. Exact dates will be determined; venues are subject to change.
The contest guidelines are fairly simple: The story must be 500 words or less and must be accompanied by at least one photo, submitted with the story. These stories will be made public, so if a writer wishes to keep names or information in a story anonymous, he or she must state so in writing when the story is submitted. Participants must sign a media release giving Palm Beach Equine Clinic and Eques Solutions permission to post the story on social media, web sites and other media outlets. No stories will be eligible without a release. The companies reserve the right to randomly pick stories to highlight each week during the contest.
Palm Beach Equine Clinic's Barbara Lanigan is very excited about the contest.
"This is the first time we've ever tried anything like this," she said. "I personally love hearing clients old and new share their positive experiences with our facility. There are a lot of nice success stories, a lot of happy, healthy horses we've been able to help. Our clinic has something for every horse owner, whether they're working with a horse that is Olympics-bound or just loving a pasture pal. I grew up loving horses, and every time we can make a horse's life better, I feel personal satisfaction. That's a big part of why I enjoy my job so much. I'm looking forward to reading the stories."
Palm Beach Equine Clinic offers 24-hour emergency intensive care and complete surgical procedures at its on-site hospital in Wellington. State-of-the-art diagnostic imaging tools include a standing MRI unit and a nuclear scintigraphy gamma ray camera, ultrasonography and radiography. The clinic offers preeminent lameness examinations, diagnostic imaging, ambulatory services, extensive pre-purchase evaluations, equine dentistry, and reproduction and fertility procedures. Alternative medicine services, including chiropractic and acupuncture therapies, also are available.
"We wanted to keep the contest easy and all-inclusive," Rottman said. "It's open to everyone, any age, no experience necessary. You can submit more than one story. If you feel comfortable writing only a paragraph, that's fine. We want this to be short and fun, something people will enjoy writing and reading. Nice, heartwarming tales of your experiences with PBEC. How you felt about your interaction, right from the owner's mouth. And the prize package is fabulous."
So, if you think you might be able to cobble together a winning story, get a move on. All stories, photos and releases must be submitted by 11:59 p.m. on Wednesday, Aug. 31. E-mail stories to info@equessolutions.com. For more information, call (561) 793-1599 or visit www.equineclinic.com/2016/05/palm-beach-equine-clinic-story-contest.