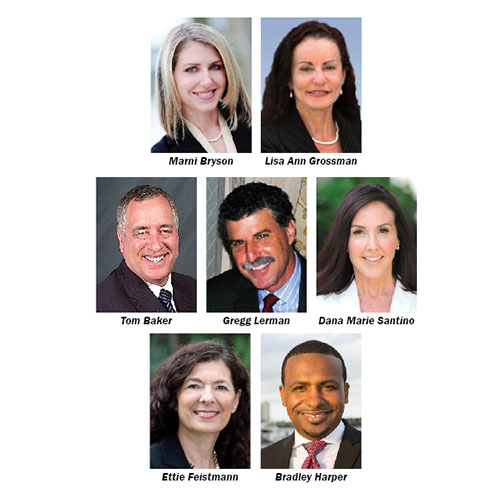 Three seats on the Palm Beach County Court bench will be on the Tuesday, Aug. 30 election ballot. The Group 7 race features Lisa Ann Grossman challenging incumbent Judge Marni Bryson. In the Group 11 race, attorneys Tom Baker, Gregg Lerman and Dana Marie Santino are vying for an open seat created by Judge Laura Johnson's elevation to the circuit court bench. Finally, the Group 15 race has Esther "Ettie" Feistmann facing Bradley Harper in a contest to replace retiring Judge Barry Cohen.
GROUP 7
Marni Bryson — Judge Bryson was elected in 2010 and has been on the county court's criminal bench since then as a trial judge.
"Not all judges are going to be doing jury trials, but that's my background, and that's what I love to do," she said.
Running for re-election wasn't something Bryson hesitated to do.
"Obviously, I love my job. It's something that you really have to grow into. Your judicial philosophy, your judicial demeanor, all of these things really don't come to you right off the bat," she said. "That's why you don't get that many people running against incumbent judges."
Law knowledge, understanding the docket, knowing how to rule on 20 objections in five minutes and understanding evidence all are critical traits for a judge, Bryson said.
Bryson suggested that anyone who wants to look at numbers look at reversal rates. Out of thousands of cases, she said, she has only seven reversals.
Bryson has been called the most vulnerable judge on the bench by her opponent because she is a divorced mother of a young child who works long hours.
"If you're going to target somebody for vulnerability," she retorted, "what will you do to the people who come before you, who stand before you, most of the time in the most vulnerable state they'll ever be in their entire life? It's frightening."
Bryson is defending her record, and her job, in this election.
"I didn't choose to run; someone ran against me," she explained. "And now I have to defend my record… It's not something that I'm just going to walk away from because it's hard."
Bryson is a native Floridian who went to the University of Florida and attended law school at Nova Southeastern. She has held many legal roles, including former assistant Florida attorney general, did appellate work in the Third and Fourth District Courts of Appeal, has handled complex civil litigation and is a former assistant public defender.
When she first ran, Bryson focused on streamlining and being an efficient county court judge. "I said what I was going to do, and I did it," Bryson said.
For more information, visit www.judgemarnibryson.com.
Lisa Ann Grossman — Grossman took an unconventional approach to her law career.
"I started off as a chiropractor," she said. "People had issues with insurance; I had issues collecting insurance; people had issues with Medicare. So I sold my chiropractic practice, I went back to college and graduated from Florida State University and became a lawyer."
Grossman worked in civil litigation, criminal defense and as a court supervisor in New Jersey before moving to Florida. Her first job was as an assistant public defender for Broward County.
Shortly thereafter, Grossman opened her own law practice, where she focuses on criminal defense and civil litigation. "I really want to help people in the community," she said.
Grossman served the community as a doctor, a high school teacher and, now, as an attorney. She has four college degrees and has owned three businesses. "I'm self-made," she said.
The position of county court judge would be a natural progression for her career, she explained. "And I really care about helping people," she said.
Grossman is looking to accomplish fairness, impartiality, efficiency and justice on the bench, and will make the best choice for Group 7, she said.
"I'm more educated, I have an excellent temperament, I'm more mature, and I have the experience," Grossman said. "I understand and have more diversity with the lives of people in the community."
For more information, visit www.lisagrossmanforjudge.com.
GROUP 11
Tom Baker — Born in Miami, Baker grew up in Palm Beach County, earning his undergraduate degree in accounting from the University of Florida before attending South Texas College of Law.
He met his wife of 25 years in Palm Beach County, where she is a public school teacher. They have two sons.
"As an attorney, I started off working for a large firm, which gave me the ability to have a bunch of jury trials, which was a wonderful experience for a young lawyer," Baker said. "That gave me the confidence, after doing that for a couple of years, to go out on my own."
For almost 20 years, he had a practice in Jupiter, practicing in family law and guardianships, and litigating jury trials in areas such as unemployment contracts, boat marina leases, personal injury and criminal cases.
In 2006, he applied and was chosen for the general magistrate position for the 15th Judicial Circuit, which he has done since. Baker has presided over more than 3,000 magistrate hearings, between family law, Marchman Act and Baker Act hearings.
"Family law can be very emotional, and Marchman cases concern substance abuse, and that can be very emotional. Baker Act cases concern mental illness, which can be difficult to preside over because one of the litigants is mentally ill," he explained. "This experience as general magistrate has helped me develop good judicial demeanor, good courtroom control and to allow pro se litigants, people who represent themselves, their day in court. I think all that transitions well to becoming a county court judge."
Passion, compassion and objectivity were all reasons Baker wanted to be a magistrate, and they follow into his desire to become a county court judge. "I just want to help people get through the court system," Baker said.
He plans to make the courtroom experience as good as it can be by putting people at ease, and letting them know and understand the rules of the court, what to expect, and why rulings were made a certain way.
As a general magistrate, Baker has gained a great deal of experience, which he feels makes him the best-qualified candidate for a county court judgeship.
For more information, visit www.tombakerforjudge.com.
Gregg Lerman — Lerman explained that his training drove him to run for the bench.
"I've been a lawyer for 30 years, primarily a criminal defense trial attorney," he said. "I've lived in Palm Beach County for 30 years, graduated Nova Southeastern Law School, and before that I was a graduate of the University of Florida."
Lerman is married with two children.
"I'm a trial lawyer. That's why I'm running for judge. I've done this for 30 years. I think the bench needs lawyers who are judges, who have experience of actually going to court every day, actually trying jury trials," he said. "I've had over 300 jury trials in my career, ranging from driving under suspensions to first-degree murders."
Regarding in-court experience, Lerman said he is probably one of the more experienced lawyers running for a judicial position.
"What I hope to accomplish, if I'm on the criminal bench, is help train those young lawyers who are public defenders, state attorneys, on how to be good, ethical, reasonable attorneys," he said. "That's sometimes a problem with young lawyers. They come in not really understanding the law or people. If I'm on the civil side, and I've done county court civil as a lawyer, I would hope to make sure that people, especially people representing themselves, understand the system and understand why something is happening… They [should] feel that they've been treated fairly and respectfully, and that the system has worked."
Lerman believes that he is the strongest candidate because he has practiced for 30 years in the county and circuit courts on the criminal and civil sides, with more practical experience than his opponents.
For more information, visit www.gregglermanforjudge.com.
Dana Marie Santino — Santino has long wanted to be a judge.
"I have a very diverse legal background," she said. "I have been in the criminal justice and civil justice system for about 25 years. Before going to law school, I was a probation officer for Pride Probation, which is a nonprofit, and I worked as a victim advocate and advocated for victims of rape, homicide and domestic violence with Palm Beach County Victim Services."
From there, Santino worked at the Palm Beach County Sheriff's Office, administering programs that were alternatives to incarceration for first-time offenders. At 27, she went to law school at Nova Southeastern University, and then the University of Florida to earn her master's of law in taxation.
Santino worked in the public defender's office and the state attorney's office before going into private practice. She was the partner in a firm, and then began her own practice.
"I advocate in and out of court for seniors, their children and families in my guardianship, probate and pro bono practice," she said. "I'm in court often for probate and guardianship matters."
Santino is running for judge because it has been a long-term goal of hers. "The day I applied to law school, I always wanted to be a judge and serve the public in a judicial capacity," she said. "Public service is my passion — it's what I did before law school."
Her husband, a police homicide detective with West Palm Beach for 30 years, retired last year.
"As a county court judge, what I'd like to do is apply the law, pursuant to law, fairly, justly and without bias, and continue my career path and career goal of serving the public of Palm Beach County," Santino said.
She believes that she is the best candidate because she has the most diverse legal background.
"I have the highest level of legal education. My diverse background and my legal education, and the fact that I'm also licensed to practice in four states, gives me the unique ability to identify with every person in that courtroom, and then to be able to apply the law completely impartially," Santino said.
For more information, visit www.santinoforjudge.com.
GROUP 15
Esther "Ettie" Feistmann — Feistmann was born in Israel, serving in the Israeli Army before attending Tel Aviv University, where she met her husband, a medical student from Mexico City.
Shortly after they married, they moved to the United States. They had four children, and Feistmann earned her bachelor's, master's and law degrees.
"While in law school, I clerked for Judge Barry Stone in the Fourth District Court of Appeal," she said. "After I graduated, I worked for Judge Karen Martin, then I accepted a position with the City of Lake Worth as assistant city attorney."
Later, she worked for the attorney general's office before working at the state attorney's office until 2011, when she moved into private practice, where she practices personal injury, criminal defense and family law.
Feistmann returned to the state attorney's office in February 2013.
"Now I'm running. I tried over 150 jury trials," she said. "The last 15 years, I have practiced in court on a daily basis… I have tons of trial experience, tons of appellate experience."
Feistmann has always had a passion for the law, for justice and for public service, and has always looked up to judges.
"It's a way of giving back to the community, and I'd like to bring my extensive courtroom experience, legal experience and life experience and give back," she said.
She is active in many organizations, such as the Hispanic Bar Association, the League of Women Voters, the Florida Association of Women Lawyers, the National Council for Jewish Women and more.
Feistmann would like to mentor young attorneys, teaching them what she knows from her extensive experience.
"A judge needs to have extensive courtroom experience, be fair and impartial and have the right temperament. And I feel that I have all of that," she said.
A heavy caseload isn't daunting to Feistmann, who tries 12 to 20 serious felony cases a year. She has been on both the prosecution and defense side for criminal court.
For more information, visit www.electfeistmann2016.com.
Bradley Harper — Harper is proud of his status as a sixth-generation Palm Beach County native, which he said gives him a unique perspective.
"My mother is an elementary school teacher and principal; my father is a business owner," he said.
He went to Morehouse College and graduated with honors with an accounting degree. He received scholarships his junior and senior year, and then received scholarships to attend law school at the University of Florida.
"And then I came home because I care about this community," Harper said.
Harper is married to a graphic designer, and they have four children. He is currently a partner and supervising attorney at his law firm, overseeing a team of attorneys with civil litigation matters.
As a well-connected individual with the community, he knows the people and how the community operates.
"I want to accomplish four things," Harper said. "Most importantly, I want to uphold the law and uphold the constitution. Beyond that, I think it is important that our stakeholders and our justice system participate and educate the public so that they understand and trust the legal system and understand how it works."
Harper wants more collaboration between the justice system and the community, to leverage technology to improve efficiency and bridge the divide between the community and the justice system, resulting in confidence in the system. If people understand how the system works, he explained, they will know they will be treated fairly and with dignity.
"I am the only candidate who has been vetted and nominated by our Judicial Nominating Commission," he said.
Harper also is the only candidate, he said, who has experience with complex trial litigation and criminal experience, handling cases ranging from wrongful death to battery cases.
"That range of experience is important," Harper said. "I have a reputation for having a great work ethic."
For more information, visit www.bradleyharperforjudge.com.