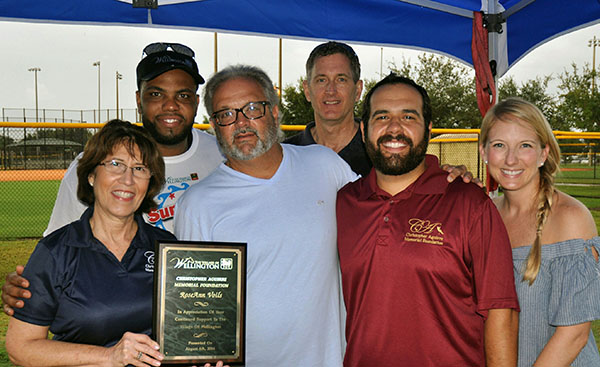 The Christopher Aguirre Memorial Foundation, a grassroots organization supported by residents and local businesses throughout Palm Beach County, has partnered with the Village of Wellington's Community Services Department.
The foundation donated more than 200 pairs of shoes to area children given out during Wellington's Aug. 6 back to school block party event at Tiger Shark Cove Park.
The foundation also sponsored 15 area children, making it possible for them to attend summer camp at Village Park or the Boys & Girls Club.
The foundation's mission is to give back to the community through educational and athletic opportunities for children. In order to meet their needs and provide services in the community, they rely on the generosity of individuals and businesses.
Through the tragedy of losing a beloved son to a drunk driver, the family of Christopher Aguirre has worked to make an impact on the lives of children in the western communities by providing educational and athletic opportunities. Each year, the foundation hosts a softball tournament on the second Saturday in December that attracts more than 500 people, allowing the foundation to continue its efforts in helping others.
On Aug. 6, RoseAnn Voils, Christopher Aguirre's mother, was presented with a certificate of appreciation from the Village of Wellington.
Thanks to the generosity of the Christopher Aguirre Foundation, Wellington children were provided with an opportunity for fun over the summer and a great start to the new school year. To learn more about the Christopher Aguirre Memorial Foundation, visit www.christophermemorial.org.
ABOVE: Representatives of the Christopher Aguirre Memorial Foundation receive a plaque from the Village of Wellington thanking the foundation for its support.