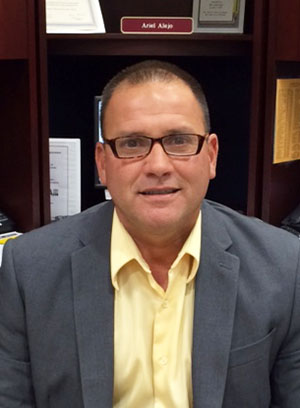 Just days before the new school year began, Ariel Alejo received the news that he was going to be the principal at Pierce Hammock Elementary School in The Acreage.
For the last three years, Alejo was the supervising principal working for the Palm Beach County School District in the Department of Charter Schools.
"My job was primarily to provide technical assistance to approximately 25 charter schools within our district," he said. "Prior to that, I was a middle-high school principal for close to six years at Pahokee Middle/Sr. High School. Prior to that, I was the principal of Belle Glade Elementary School for close to three years."
Alejo has two sons, an eighth-grader at Western Pines Middle School and a fourth-grader at Royal Palm Beach Elementary School. His wife, Andrea, is a media specialist at Hope Centennial Elementary School. They recently moved to the Acreage/Loxahatchee area.
"I'm really excited about the students. I have now visited every single classroom. I've been able to observe all of the wonderful teachers that we have here and all of the students that we have," said Alejo, who replaced John Carvelli as principal.
Currently, Alejo is working on building relationships with parents, teachers, students and staff.
During the parent-teacher meet and greet, he was impressed with the parent turnout and parent generosity with supplies for their children and the classroom.
"I met a lot of the parents here, personally, and I was just thrilled to see that we have such wonderful support from the parents, and that's going to be very important for the success of our students and overall at the school," Alejo said.
Alejo stressed the importance of reading, and would like the school's reading scores to continue to increase. Fostering the students' passion for reading, joined with Alejo's passion for reading — every night, in addition to homework — will only help students in their career paths.
"I am a person who has an open-door policy," he said. "I am a parent myself, and when I think about the services that we want to provide here as a team in our school, I always think of my kids, and what I would want my kids to have is what I want to be able to provide to every single student who walks into our school here. I want kids to feel good about themselves. I want parents to feel good about coming and talking to me any time they have a question or a concern, or anything they want to share."
Fostering relationships and working together is important to Alejo, who served in the U.S. Navy. "For me, I'm former military — it's all about teamwork, it's all about building relationships and it's all about building trust," he said. "I want the parents to feel that they can trust us here as a team, that we are going to make sure that their kids receive a quality education each and every day."
Student achievement scores for the school are high, and Alejo is proud of the program that the teachers have implemented. Raising the scores, he said, is also a goal, because he wants Pierce Hammock to be the best elementary school in the state.
"My focus this year is going to not change anything, but to equip teachers and staff with the things that they need to help kids. I want to build a good working environment of collegiality, professionalism, trust, sharing, collaboration, and a sense of community and a sense of family here at our school so we can better help our students," Alejo said.
Pierce Hammock is located at 14255 Hamlin Blvd. For more info., call (561) 633-4500.
ABOVE: Ariel Alejo