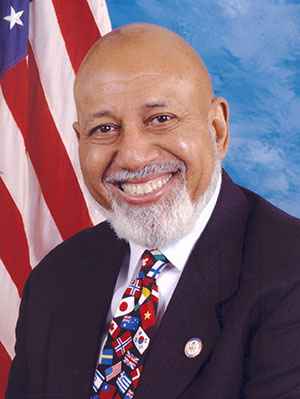 U.S. Rep. Alcee Hastings, a Democrat in his 23rd year representing South Florida in Washington, D.C., is running for re-election against Republican candidate Gary Stein.
District 20 contains portions of Broward, Palm Beach and Hendry counties. The district includes urban and rural areas, as well as the Everglades. It is considered a safe Democratic seat. Two years ago, Hastings defeated his Republican challenger, taking nearly 80 percent of the vote.
At one point, Hastings' district included parts of Wellington, but in its current form, it includes large portions of Royal Palm Beach and Loxahatchee Groves.
Hastings said he has been able to work in the past with his Republican colleagues in the House of Representatives to get things accomplished, but the elimination of earmarked projects in 2011 has hamstrung those efforts to get local legislation passed.
He pointed out that when former Rep. Clay Shaw, a Republican, was in office, they worked together to get local projects done, including a significant upgrade to the radar system at Palm Beach International Airport.
His district includes the Glades area, which is in need of federal assistance for both employment and potable water improvement. Hastings added that expanded desalinization programs are needed for that area so residents have an adequate water supply.
Water issues, Social Security, Medicare and controlling the Zika virus outbreak remain at the forefront of Hastings' agenda.
"We still have not allocated the necessary funds for the development of the vaccine, which could take as much as two years," Hastings said, before congressional action Wednesday brought Zika funding closer to reality. "The mosquito isn't going to go away, the virus isn't going to go away, and what we need is better consideration."
Another issue of importance is Social Security and Medicare, he said.
"They need to be addressed, and they need to be addressed with realism," he said. "The trust fund can get us up to the year 2035, which is beyond my lifetime, but at the same time, what are we doing for those behind us?"
Hastings said the government is failing to address the issue honestly and tell people what the harsh realities are.
"I'm always reminded when people come and they say, 'I don't want the government in my business, but don't touch my Medicare,'" he said. "Well, the government is in their business. When all is said and done, we are in this together."
He suggested that the government is growing more deeply divided into the haves and have-nots, as evidenced by Wellington being removed from his district.
"Wellington has a stronger tax base than does Royal Palm Beach," he said. "If we shift that to Palm Beach, well, they have a better tax base than Wellington, Royal Palm, West Palm Beach and Pahokee combined."
Meanwhile, his district, with some of the poorest areas in Florida, continues to suffer.
Hastings is concerned about the lack of progress in shoring up the Herbert Hoover Dike around Lake Okeechobee.
"I am extremely disappointed with the U.S. Army Corps of Engineers' projection that we will be well off into the middle 2020s before they will be shoring up the Hoover Dike. That said, I just hope we don't have a major hurricane."
Hastings has been following the State Road 7 extension issue and said it is difficult to resolve.
"I hear the mayor of West Palm, and I hear the mayor of Royal Palm," he said. "I don't serve on the Transportation Committee; Rep. Lois Frankel does, and she keeps me abreast. I'm very careful with that particular issue because there are two sides to that story, and I happen to have constituents on both sides."
Hastings hopes that the desalinization program in Belle Glade will be a model for other municipalities to follow.
"I'm totally supportive because it's going to be critically necessary," he said. "We need to take as much load off of Lake Okeechobee as we can. This algae issue is something that we all need to be mindful of. We have a fragile ecosystem, and we've got new things coming up all the time with invasive species… I'm the co-chair of the Everglades caucus with [U.S. Rep.] Mario Diaz-Balart (R-District 25). We meet with regularity and overall concern."
Hastings is also co-chair of the Florida delegation with U.S. Rep. Vern Buchanan (R-District 16).
"We work extremely well together, and I'm always proud of the Florida delegation for standing up for those things that are vital for South Florida," he said.
At age 80, Hastings said he is not ready to retire.
"I'm going to retire when my body tells me that I can't do the job," he said. "The thing that pleases me most about this job is helping constituents, and that's whether they are veterans or children seeking schooling. That's what motivates me more than anything, particularly children and the elderly."
Stein, who lives in Sunrise and has run several times for various offices as a Republican and a Democrat in New Jersey and Florida, said he is running because he does not believe that Hastings, a former federal judge who was impeached in 1989, should be in office.
"I'm an old hat with the process of getting on the ballot," he said. "I come down from New Jersey, where it's simple to get on the ballot, and in Florida, it's very difficult, but I couldn't resist when I saw who my congressman was when I moved here, Alcee Hastings, and his background."
He said most people are intimidated by the process of becoming a candidate.
"The first time I got on the ballot, I was totally freaked out after I turned the papers in, but you get over that," he said. "I'm as fed up as everybody else out there, I just have a different way of expressing it, by getting on the ballot. Most people would never in their wildest dreams think of getting on the election ballot."
Stein said he got the 2,300 signatures to get on the ballot by going door-to-door about two hours a day for four months.
Stein has a bachelor's degree in finance from New York University and holds a real estate license in Florida.
He favors a tax plan with a 50 percent flat tax on individual or corporate earnings of over $500,000, and a 10 percent federal sales tax for everyone.
ABOVE: U.S. Rep. Alcee Hastings.