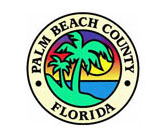 The Palm Beach County Commission approved the preliminary reading of its 2016-17 budget of over $4.3 billion, with a property tax rate of 4.7815 mills, at a public hearing on Tuesday.
The general fund controlled by the commission accounts for about $1.25 billion of the budget.
County Administrator Verdenia Baker said this would be the sixth year that the county has held its tax rate at 4.7815 mills, although increases in property values will net a greater revenue return. The same rate will generate $56.8 million more in property taxes, or 7.8 percent more than the current year, for a total of $786.7 million.
The commissioners also approved a library tax rate of 0.5491 mills and a fire-rescue MSTU of 3.4581 mills, along with a county-voted debt millage rate of 0.1327 and a library voted debt millage rate of 0.0442.
Baker said that the increased budget was due to countywide operational increases, including the Palm Beach County Sheriff's Office increase of $27.8 million, other constitutional officers including judicial services of about $1 million, increases in the commission's operations net revenue of $6.3 million, non-departmental operational debt services of $4.2 million, increase in capital projects of about $8 million and an increase in the reserves of $8.7 million.
The county library budget increased by about $2.9 million, while fire-rescue increased by over $14 million.
Baker said that the reserves are $99.5 million, up by $8.8 million, which brings the county into compliance with its financial policy to maintain an 8 percent reserve.
The budget includes a 3 percent across-the-board pay increase and a net increase of 62 new positions.
The new capital funding of $34.1 million is primarily for renewal and replacement, of which $7.2 million will go into the capital reserve account.
Baker said that the budget does not include funds it hopes to receive from the 1-cent infrastructure surtax increase, which will go to a referendum in November.
"Should it pass, we will bring back an amendment to the 2017 board for approval," she said. "If it fails, we will need to bring back a plan for your approval to cover those particular costs."
Commissioner Steve Abrams asked about the increase in staff and where the head count is since 2009 when the county made a dramatic reduction in its work force.
Baker said that when the county started the reductions in the work force due to the economic downturn, it had reduced the positions by about 800.
"We have added some back, and I think there is a net of 722, so we're still down," Baker said.
Commissioner Paulette Burdick pointed out that it had been stated that the commission has held the tax rate steady for the past six years. She asked that in the 2018 budget, if property values continue to increase, the county consider actually lowering the millage rate.
"For us who are homesteaded we're OK, but for businesses and other homes that are not homesteaded, they are seeing significant increases in their property taxes, so I hope that we would begin to have that conversation," Burdick said.
Commissioners Shelley Vana and Priscilla Taylor asked about funding for body cameras for the sheriff's office, which had not been included in the budget, and Baker said she had talked to the sheriff, who said that if the commissioners finance them, his office would use them.
Vice Mayor Hal Valeche made a motion to approve the tax rate, which carried 7-0.
The second and final reading of the budget will be on Monday, Sept. 19 at 6 p.m.