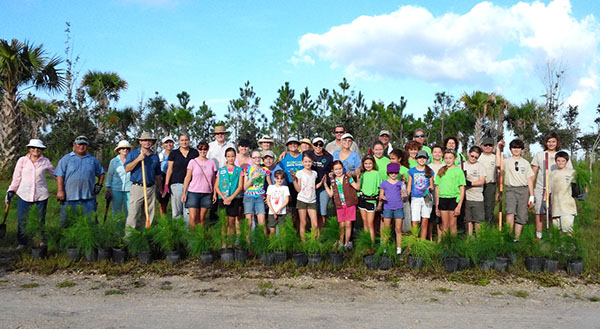 The Village of Wellington and the Wellington Garden Club are partnering to celebrate National Public Lands Day on Saturday, Sept. 24.
With the assistance of Wellington Garden Club members and Wellington staff, Palm Beach Central High School Environmental Club students and faculty, Boy Scout Troop 222, Cub Scout Troop 222 and Girl Scout Troop 22222, along with their leaders, parents and other volunteers, the group will plant approximately 350 native Walter's viburnum shrubs.
Involving the students and scouts helps teach the next generation to care for the environment, Wellington Landscape & Forestry Operations Supervisor Brian Hopper said.
This is the third year that the groups are collaborating to celebrate the day and improve Wellington's habitat. The first year, 1,100 native slash pines and mahogany trees were planted. Last year, 700 pine trees were planted. This weekend, about 350 shrubs will be planted.
"National Public Lands Day came to our attention through Brian Hopper," former Wellington Garden Club President Twig Morris said. "This started a couple of years ago when he had 1,100 pine seedlings that he needed to have planted. He asked the garden club to help, and we said we'd love to. It was a great success."
National Public Lands Day, Hopper explained, is a day when groups from all over the nation get together and do environmental restoration projects on publicly owned land.
"We wanted to be a part of that. It's a worthwhile endeavor," Hopper said.
The Marjory Stoneman Douglas Everglades Habitat was chosen for the village's focus because of its vast amount of space and ability to be enhanced.
The Walter's viburnum shrubs will fill in a lower area, and be beneficial to wildlife in the preserve, Morris said. They are native shrubs that can tolerate both dry and wet weather. The shrub has white flowers and berries, which add to the habitat by offering visual interest and food for birds, butterflies and other pollinators. The shrubs can grow up to 10 feet, but will most likely stay around 8 feet.
Because so many trees were planted in the past, the focus is shifting toward filling the underlying areas, Hopper explained. The shrubs were actually leftover seedlings from Wellington's Earth Day seedling giveaway.
Hopper had the extras potted by local nurseries, and they have been growing steadily for the last few months.
"Public lands are so important… particularly the Marjory Stoneman Douglas Everglades Habitat," Morris said, calling the area a hidden gem. "A lot of people don't know about it, and they really should come out and learn about the wildlife that is there, the native plants that are there, the open space that is there. It really is a special place, and as a public space, we are happy to support it."
For Hopper, partnering with the Wellington Garden Club has provided a knowledgeable group to have on hand.
"It's a great partnership and a great opportunity. They've been wonderful partners for the past three years doing community projects, and we're appreciative of their assistance," he said.
The Wellington Garden Club is working with the Palm Beach Central High School Environmental Club and the scout troops on various projects. To learn more about the Wellington Garden Club, e-mail info@wellingtongardenclub.org or visit www.wellingtongardenclub.org.
Additional volunteers are not needed for this event.
ABOVE: Volunteers at a previous National Public Lands Day planting effort.