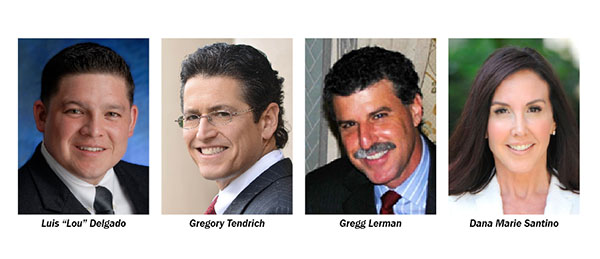 Two judicial races will be on the Nov. 8 general election ballot after no candidate got more than 50 percent of the vote in primary balloting on Aug. 30.
Circuit Court Group 4 candidates Luis "Lou" Delgado and Gregory Tendrich will face off against each other. In August, Tendrich led the balloting with 48.68 percent of the vote. Delgado took 33.98 percent. Third-place candidate Jeremy Zubkoff was eliminated.
The remaining County Court Group 11 candidates are Gregg Lerman and Dana Marie Santino. Lerman placed first in the primary with 35.18 percent of the vote. Santino garnered 33.53 percent for second place. Third-place candidate Tom Baker was eliminated.
CIRCUIT COURT GROUP 4
Luis "Lou" Delgado — "When I was a prosecutor, I had a full workload and I studied for and passed the New York bar exam," Delgado said. "That's because I'm a smart guy, and I always have been. But I've also worked really hard my entire life. That work ethic comes from the U.S. Marine Corps. I enlisted in the Marines when I was 18, and it changed my life."
Those changes included learning the difference between hard work and really hard work. "I have the aptitude, and I have the work ethic. I also have practiced in the most different divisions of our courts," he said.
A circuit court judge, Delgado explained, can be placed in the criminal, civil, juvenile justice, family division or probate division.
"The only thing I've never done is divorce; I've never done family law," he said.
Tendrich, Delgado said, deals in financial arbitrations, which have varying laws. "For the past eight years, even though I'm younger, I've practiced in the most divisions, and have a broader skill set," he said. "I've also tried the most cases to a judge or a jury."
Delgado became a prosecutor at 28 and, now 35, is running for judge. Judges have to retire at 70 years old, he pointed out.
"If I can serve my country from 18 until 70, then that's what I want to do with my life. Public service is not something that I just decided to do," Delgado said. "It's not something that… waited until I was 'ready' to do it. It's something that is the most important thing to me."
Listening to trials with great frequency is something that Delgado is ready for. He likened being a lawyer to learning how to play a musical instrument. "The more and more often you do something, the better you're going to be at it. When it comes to trials, I've done the most with the highest frequency, so I'm going to be more ready on day one," he said.
Delgado disagreed with Tendrich's assertion that because Delgado is younger, he lacks life experience. As a combat veteran, he said, he's made some of the most mature decisions a person can make. "I have more energy, there's the prospect for longevity in office, and I think that's really what's most important," he said.
Delgado said he is ready, and willing, to do whatever needs to be done and go wherever the chief judge wants him to do. He has committed to Florida, the community and his profession, and is asking voters to support him on Election Day.
For more information, visit www.loudelgado.com.
Gregory Tendrich — "I've been a lawyer for 28 years. I've had a pretty diversified experience over the course of that 28 years. I was an assistant public defender," Tendrich said. "For the last 25 years, I handled civil cases in circuit and county court. I've handled probate cases and litigated cases in both the court setting and an arbitration setting. Plus I've been a mediator and an arbitrator, a judge, in all different types of cases."
Tendrich said that he has experience in criminal and civil cases, and everything in between.
Some of the top issues in the race for circuit court, Tendrich said, are that candidates with knowledge, experience, life experience and wisdom are ideal for the bench.
"I think I have the right demeanor. I have great listening skills. I've been an arbitrator and a mediator for almost 20 years, so I've sat in a capacity as somebody who reviews cases and gets parties together and listens and understands issues fairly quickly," Tendrich said.
Tendrich noted that he has the support of most of the legal community in Palm Beach County, along with endorsements from a wide array of organizations. Support from the legal and business community, as well as organizations, is important, Tendrich said.
"I always wanted to be a judge, but at the right time. That time for me is now, just based on when this position became open. Given my age and years of experience, it was the right time for me," he said. "I like where we're at, and that's why I believe I'm the most qualified candidate."
Experience is important to Tendrich, who believes he is a better choice than Delgado.
"My opponent has been a lawyer for seven and a half years and doesn't have, in my mind, those traits that we need for a circuit court position, which is our highest trial court in Florida," he said.
Tendrich is asking voters to vote for him on Election Day because he has the experience, demeanor and specific skills to fill the role of judge.
"I can only promise the voters that I will be fair and impartial, and that anybody who walks into my courtroom will be treated equally and fairly," Tendrich said. "That's all you can ask of your judges. You want your judges to follow the law. I can guarantee you that's exactly what I'll do."
For more information, visit www.tendrichforjudge.com.
COUNTY COURT GROUP 11
Gregg Lerman — "In a large part, my experience — not just as a trial lawyer actually having the practical experience of trying cases and being in court sometimes five to seven days a week, but in dealing with all types of people, no matter what race, religion or socioeconomic level they came from — in the 31 years that I have been practicing law has taught me to be patient," Lerman said.
The Group 11 race, he said, is boiling down to someone with 31 years of experience as opposed to someone with little to no courtroom experience.
"I've tried 300-plus jury trials ranging from minor, misdemeanor and traffic-related charges up to first-degree murder cases, complicated racketeering cases and white-collar crime cases," Lerman said. "I have that real-world experience of the courtroom that allows me to hit the road running, so to speak, and not really have a learning curve as a judge."
One of the biggest issues in the campaign, he said, is temperament and knowing how to teach lawyers and non-lawyers, treating everyone with respect and patience.
"County court really is the people's court," he said. "It's where the average person, if he's going to be in a courtroom setting, is more likely to end up than in circuit court."
Small claims, landlord-tenant situations, debtor situations and similar cases tend to be the cases that are seen in county court, and Lerman feels that he has the necessary experience in those matters.
"This race is really coming down to courtroom experience, that real-world, practical experience, those 31 years that I have of trying those petty thefts and those DUIs and those aggregated batteries and first-degree murders, and really understanding the dynamics of the courtroom from jury selection to how witnesses are treated and what objections are made," he said. "And then on the daily basis, the routine things of motion practice."
Routine hearings, he said, are also a part of making sure that the system moves smoothly and efficiently, and daily motions play a large role. Lerman's experience will help with that flow.
"What can I do? I can, hopefully, bring my experience to bear for both the young public defenders if I'm on the criminal side and the young state attorneys that appear in front of me and help them become better lawyers," Lerman said. "I think that's the best thing that I can do on the criminal side if I'm assigned there. I can't try their cases for them; I can, however, sit down with both sides after and… hopefully have a positive influence on them. The county court on the criminal side really is the training ground for young lawyers."
For more information, visit www.gregglermanforjudge.com.
Dana Marie Santino — "I believe that one of the most important traits, or the most important trait, for a judge is temperament. Being a county court judge, you have a lot of people, particularly obviously in civil court, that are not represented by counsel," Santino said. "I think that you need to be patient, have humility, and be able to essentially [have] a large set of ears and a small mouth, and listen, and treat people with dignity and respect, and apply the law fairly and impartially."
Santino's work, she said, and knowledge of the law help with those traits. However, it is not possible to teach someone what she considers the most important aspects of the job, such as how to be impartial and humble, treating people with dignity and respect, and realizing that the job is about service to the public.
She has 25 years of civil and criminal justice experience. "I think my well-rounded, diverse legal background gives me the very unique ability to identify with everyone in that courtroom," Santino said.
Being self-employed, she said, gives her case management experience. Paired with her ability to listen and her temperament, while applying the law fairly and impartially, this sets her apart from her opponent.
In addition to her credentials, Santino believes being female gives her a unique perspective.
"I'm a woman. I have to be honest: I think women bring something completely different to the bench when it comes to empathy and treating people with dignity and respect," she said.
Balancing the caseload, and making sure that each person gets their due process and day in court, Santino said, is the most important thing to adhere to as a judge.
Her approach would be to go in feet first, with her ears open and her mouth shut, ready to serve the public, she said. The job isn't a 9-to-5 commitment, and she is ready to do what is needed, serve Palm Beach County and make the voters proud that they elected her.
"I have the most diverse legal background. My opponent has practiced criminal defense law his entire career, and that is it. I have practiced both criminal and civil," she said. "I'm in court all the time. I have knowledge of the law, I have the highest level of legal education in my race, and I think, most importantly, the ability to apply the law fairly and impartially, and with humility, which I don't know that my opponent has the ability to do."
For more information, visit www.santinoforjudge.com.