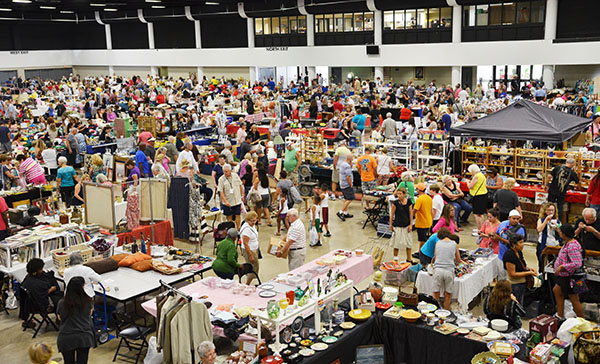 There are the usual Saturday morning garage sales, and then there's the 26th annual Gigantic Garage Sale at the South Florida Fairgrounds on Saturday, Sept. 24 from 7 a.m. to 1 p.m.
The Gigantic Garage Sale will feature two spacious expo halls full of stuff, all in air-conditioned comfort. About 3,500 people are expected to attend, seeking deals and perhaps an unexpected treasure or two.
More than 250 nonprofit and for-profit organizations and families will set up booths. There are still a few spots left for individuals and nonprofit organizations. Vendor spaces still available starting at $75.
The first 500 adults will receive a reusable shopping bag, and the first 100 kids will receive a goodie bag.
In addition to shopping, there will be a Kids Zone with a coloring area, bounce houses, face painting, bean toss and hula hoops. A portion of the admission fee is being donated to the Leukemia & Lymphoma Society Light the Night Walk – Team Dylan/South Florida Fair.
The early admission price from 7 a.m. to 10 a.m. is $7. After 10 a.m., the price drops to $5. For free parking, enter gates 3 or 12. For more info., call (561) 793-0333 or visit www.southfloridafair.com.
ABOVE: Thousands of people are expected to attend this year's Gigantic Garage Sale.