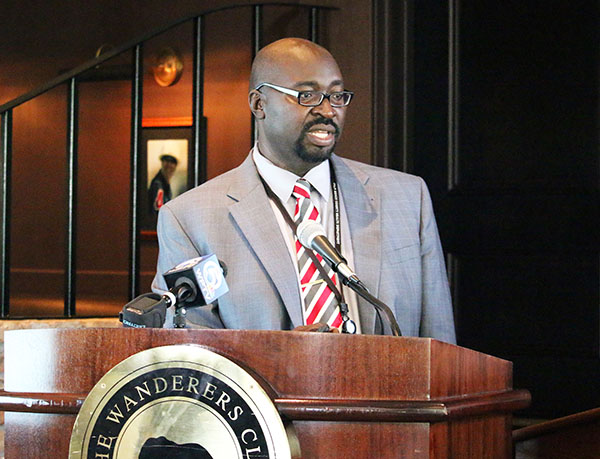 Dr. Robert Parkes, chief medical director and epidemiologist from the Florida Department of Health Palm Beach County was the guest speaker at the Wellington Chamber of Commerce's luncheon Wednesday, Aug. 24 at the Wanderers Club.
Parkes provided chamber members with an update on the Zika virus, particularly how it is affecting the community, what symptoms to look out for and how to minimize the risk of Zika-infected mosquitoes.
"The Zika virus is considered a flavivirus," he said.
It was first identified in Africa and Southeast Asia in 1947. "As we know, with international travel and the movement of a population with much more ease, we're seeing much more transition of diseases that were initially isolated," Parkes said. "We're seeing them actually present more, in other areas."
The two types of mosquitoes that transmit Zika are in Florida, Aedes aegypti and possibly the Aedes albopictus, he said.
When a Zika-infected mosquito bites an animal or human, it takes between two and 14 days before the victim becomes symptomatic.
Zika can be transmitted through a mosquito biting someone already infected, through sexual transmission, through birth, through lab exposure or from a transfusion.
"Last time I checked, there were more than 50 countries with active Zika transmission," he said.
Zika is found in South America, Central America and the Caribbean islands — as well as in the United States.
One in five people infected, Parkes said, will become symptomatic. Some of the most common symptoms include fever, rash, joint pain and red eyes. Other symptoms include muscle ache, headache, pain behind the eyes and vomiting.
It is similar to dengue and chikungunya. All three have similar symptoms. "There is no definitive treatment for Zika," Parkes said, explaining that the symptoms are treated; aspirin and similar drugs should be avoided.
Zika has been linked to microcephaly, where the fetal brain doesn't grow and develop properly, and Guillain-Barré Syndrome.
Any suspected or confirmed cases of Zika are required to be reported to the Department of Health. Reported cases and other information can be viewed at www.cdc.gov/zika. Florida's status updates can be viewed at www.floridahealth.gov/newsroom.
All county health departments, Parkes said, offer free Zika risk assessments and testing for any pregnant woman who would like to be tested. To make an appointment, call (561) 625-5180.
To prevent Zika-infected mosquitos from congregating nearby, drain any water that has been collected. Even one teaspoon is enough water for mosquitos to breed. When going outside, be sure to cover up and apply mosquito repellent to bare skin or clothing, following the product's directions.
"The Aedes mosquito is different from other mosquitoes," Parkes said. "The mosquito that causes dengue, chikungunya and Zika is not the mosquito you're going to find in your lakes and ponds. It's not where you're going to find that mosquito. You're going to find the Aedes aegypti mosquito closer to your house. You're going to find it in your potted plants where there's water, your bromeliad plant that catches water, if you have a receptacle outside that catches water for whatever reason. That's where you're going to find it."
Even indoor potted plants with water, he said, can have mosquitoes that transmit Zika. "Remove all standing water from around your home," Parkes said.
At the close of his presentation, Parkes noted that all advice is subject to change as more is discovered about Zika, but the advice currently given is the most up-to-date.
To learn more, visit www.floridahealth.gov/zika.
In other news, the Wellington Chamber's Sept. 28 luncheon will be a speed networking event at the International Polo Club Palm Beach.
The chamber's golf tournament is set for Oct. 22, while WinterFest will take place Dec. 3.
On Saturday, Sept. 10 at 8 p.m., the Women of the Wellington Chamber will present its Fall Runway Fashion Show at Suri West for "Fashion4APurpose," with cocktails at 6:30 p.m. and a show at 8 p.m.
Visit www.wellingtonchamber.com for more info.
ABOVE: Epidemiologist Dr. Robert Parkes speaks at last week's luncheon.