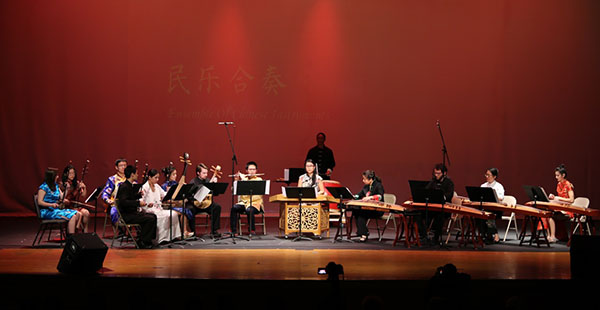 The Norton Museum of Art's 11th annual celebration of the Chinese Moon Festival in honor of its world-class collection of Chinese art will take place from noon to 5 p.m. on Saturday, Sept. 17.
Festival highlights include a performance by members of Florida State University's Chinese Music Ensemble. The ensemble is led by Haiqiong Deng, an award-winning musician who has performed at previous Norton Moon Festival celebrations. She returns with half a dozen members of the FSU ensemble to perform holiday-related music on a range of Chinese instruments. The group also will host a "Children's Introduction to Chinese Music" program.
The concert will start at 3:15 p.m. Free tickets will be available beginning at 2:15 p.m., on a first-come, first-served basis with a limit of four tickets per person.
Other highlights of the free festival include a Chinese painting demonstration by painter Liu Nan, who is trained in both western and traditional Chinese techniques; a ceramic demonstration by artist Lauren Shapiro, who recently returned from the centuries-old center of Chinese porcelain production in Jingdezhen, China; and a Curator's Conversation by Laurie Barnes, Elizabeth B. McGraw Curator of Chinese Art. Barnes will discuss the museum's newly acquired Ming Dynasty-era glazed stoneware panels dramatically emblazoned with dragons and peonies.
Also featured during the afternoon are art activities for all ages and docent spotlight tours of Chinese artwork. A reception with traditional Chinese mooncakes and tea completes the celebration.
Founded in 1941, the Norton Museum of Art is recognized for its distinguished holdings in American, European and Chinese art.
Earlier this year, the museum broke ground on a visionary expansion designed by the architecture firm Foster + Partners, under the direction of Pritzker Prize-winning architect Lord Norman Foster.
The project reorients the Norton's entrance to the main thoroughfare of South Dixie Highway, restoring the symmetry of the museum's original 1941 design, and includes a new 42,000-square-foot wing that doubles the education space and increases gallery space. The transformation of the museum's 6.3-acre campus will create a museum in a garden, featuring new, verdant spaces and a sculpture garden.
The Norton Museum of Art is located at 1451 S. Olive Ave. in West Palm Beach, and during construction through December 2018 is open Tuesday, Wednesday, Friday, Saturday and Sunday from noon to 5 p.m., and Thursday from noon to 9 p.m., and is free to the public. The museum is closed on Mondays and major holidays. For additional information, call (561) 832-5196 or visit www.norton.org.
ABOVE: The Norton Museum's Moon Festival celebration will include a performance by Florida State University's Chinese Music Ensemble.