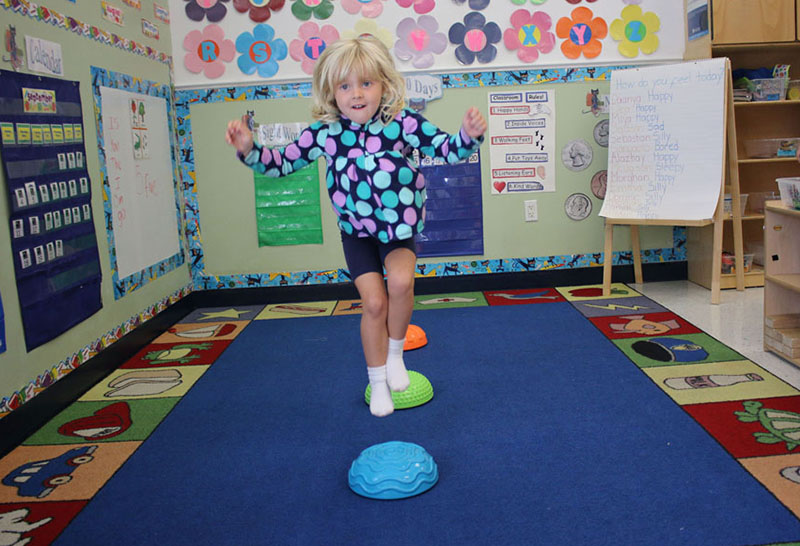 Preschoolers at the Goddard School in Wellington have spent the past week working hard at what many might call a dream job.
There are more than 430 Goddard School locations in the United States, and 50 schools each year are chosen for a unique toy testing opportunity.
The children, ages 6 months to 5 years old, get to be toy testers for a week.
Local Goddard School on-site owner Patricia Weisz is excited that her school was chosen to be one of the 50 testing schools this year.
"Goddard School has been doing this since 2008," she said. "This is the first time that we have been chosen to do it, and the kids are loving it; we're loving it. They're testing different toys, some that are in the market and some that are going to be in the market."
The students, with the help of their teachers, have been testing the educational-themed toys to evaluate what the children enjoy, what keeps their attention, what is truly age-appropriate, and if the toy is fun and engaging.
"After that, each class has to choose two toys from the ones that they tested that they like more," Weisz said. "They give it to us, and we put it in the system. All locations are going to choose two toys per class."
Goddard then chooses the top 10 toys for the year. After all of the voting has taken place, Goddard corporate sends 100 of the most popular toy to Toys for Tots.
There are different toys for every age group. Each day, different classes tested out different toys. Teachers are given observation forms and ballots to see what toys are well-received by the children.
Student Alazhay Husson, from a pre-k class, was testing a sensory steppers toy where the children jumped from one textured balance disk to another. Her favorite texture was the bumpy one.
Husson's teacher, Walmar Diaz, has enjoyed testing the games with the children.
"They did pretty good. They like to be jumping and feel the different textures," she said. "They're really engaged in what they're doing, and they're having a good time."
On Tuesday, Diaz's class learned about the heartbeat, and on Monday, they raced vehicles down ramps.
"They're really enjoying it and really liking it," Diaz said. "They're having a good time. They like to test new toys and do different things every day."
Some toys have gone over better than others in different classrooms, Weisz said. "In general, they're liking the toys, and they like that each day they have another toy to test. It's like having new games every day. They're very educational," she said, pointing out that the school received about 26 toys from companies including LeapFrog, the Manhattan Toy Co., VTech, PlayMonster, Alex Brands, Beleduc USA and more.
Every year, different schools are chosen, and different toys go to the schools. The testing took place from Monday, Sept. 19 through Friday, Sept. 23.
Wellington's Goddard School is holding a bonus community day Saturday, Sept. 24 from 11 a.m. to 1 p.m. during an open house, where children 6 months to 5 years old are invited to test toys and have their preferences added to those of the Goddard students.
"It's something new for the kids and the parents," Weisz said. "It's an honor to be able to test toys that later are going to be going to other kids. Toys being tested by kids and not by adults; we can see what is really good for them by what we're doing here."
The Goddard School is located at 2665 State Road 7 in Wellington. For more info., call (561) 333-2020.