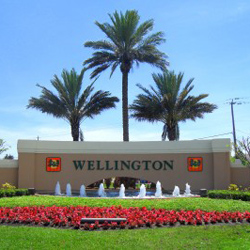 The Wellington Village Council conducted its first public hearing Tuesday on its 2016-17 budget of $89.5 million, which is roughly $4 million above the current budget.
The ad valorem tax rate is down 0.01 to 2.44 mills, the lowest since 2009, which will still generate an additional $1.2 million due to an increase of almost 8 percent in total Wellington property values, now at almost $7.5 billion.
This means Wellington homeowners will pay a property tax rate of $2.44 for every $1,000 of assessed valuation of their property, after exemptions.
The overall village budget, excluding the Acme Improvement District, is $58.8 million, an increase of $1.4 million, or 2.5 percent. The operating budget stands at $46 million, up $3 million or 7 percent. Capital projects are $5.5 million, down $406,000 or 6.9 percent.
The operating budget includes the general fund and three special revenue funds — the Acme Improvement District, the building fund and the gas tax road maintenance operations fund — which were approved Aug. 9 with no increase, and a decrease in the solid waste assessment.
Director of Administrative & Financial Services Tanya Quickel said the biggest increases in the general fund are $2.5 million for new positions in building and maintenance and the new Wellington Community Center; a return to the five-day work week; the PBSO contract increase, which includes a 2 percent increase and two new deputies; and moving parks and recreation spending from the Acme budget back to the general fund.
Overall, the tax bill for all taxing districts on a homesteaded property in Wellington valued at $300,000 will decrease by $148, due to lower Palm Beach County School District, Health Care District and South Florida Water Management District taxes. The average tax bill for Wellington alone will increase by about $2.
The largest portion of taxes will go to the school district, 34 percent. The second-largest is Palm Beach County and the library system, 24 percent. Wellington, including ad valorem taxes and assessments, is third at 16 percent.
Wellington's staffing will increase from 302 to 314 positions and 90,180 part-time hours, an increase of 9,980 hours. That includes a 2 percent overall wage increase and 2 percent merit increase, plus budgeting for up to six weeks' parental leave, which has not yet been approved by the council. A 5 percent increase in medical insurance is also included.
The total capital improvements plan of almost $15 million, which includes funds carried forward from previous years as well as projects financed for future years, will pay for technology improvements, the neighborhood trails programs, park and public works improvements, the completion of Hawthorne Park, the Acme renewal and replacement program, and surface water management programs.
Turn lanes, road raising and traffic engineering are budgeted at $1 million for Big Blue Trace at Barberry Drive, Big Blue Trace at Wiltshire Village Drive, and an extended turn lane at Pierson Road and South Shore Blvd.
Water and wastewater projects are budgeted at $4.6 million, with the biggest portion going toward the continuing water distribution improvements of replacing 40-year-old pipes in several different areas.
The general fund rate stabilization reserve will be reduced by almost $1.6 million, which will still leave it at 31 percent.
"Your policy is to try to stay between 25 and 29 percent, so this is slightly above the policy," Quickel said.
The second public hearing and final approval of the budget is set for Tuesday, Sept. 27.