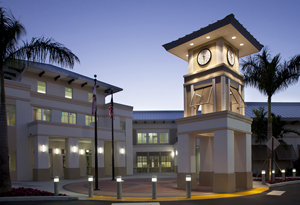 Wellington's Planning, Zoning & Adjustment Board met Wednesday, Sept. 14, but the majority of agenda items were postponed to the board's October meeting — including consideration of the proposed Winding Trails equestrian estate community on the unused Wanderers Club executive golf course land.
Patricia Holloway of Ward Real Estate, the applicant, requested the postponement of the four Winding Trails items on the agenda due to a discrepancy regarding a conflict of interest involving a PZA board member.
Holloway apologized for the late notice of the request for a postponement, noting that the complications arose on Tuesday.
About 50 residents, many from the Lakefield South community, which the Winding Trails project surrounds, attended the meeting in hopes of speaking during public comment about the project. Many were not happy with the delay.
Village Attorney Laurie Cohen recommended that should the board accept Holloway's request, the items be postponed to a date certain, in order to avoid the need for re-advertising the meeting.
Vice Chair Kenneth Kopp asked about the legal information regarding postponements.
"Ordinarily, an applicant has a postponement as a matter of right if they request it in writing within a certain number of days," Cohen said. "An issue arose today, which we have one absent board member and another one who ultimately may not be able to participate. I think that, in fairness to the applicant, they would like to postpone it until the full board, or as many as possible, can consider the item."
Planning, Zoning & Building Director Bob Basehart clarified, noting that each applicant is allowed one postponement as a matter of right, where the postponement is requested five days prior to the scheduled date of the hearing. When that doesn't happen, the board has to act to require it to be postponed or moved forward.
At Basehart's comment, the audience started saying "move forward."
Cohen explained that on Tuesday, she and Board Member Tomas Bueno had a conversation.
"Mr. Bueno is president of the Aero Club HOA, and he told me that he had a number of people who live within the community who were opposed to the project," Cohen said. "He felt that he had a conflict between his duties to the Aero Club board and his duties as a member of this board. I asked Mr. Bueno if the board had taken an official position, and he said it had not."
Cohen advised Bueno to consider whether he could be fair and impartial when it came to the Winding Trails application. "Subsequent to our conversation, Mrs. Holloway received a text message from Mr. Bueno basically saying that he could not support the application," Cohen continued. "Because two of the items that are under consideration are quasi-judicial, those items are a little bit different than a legislative item."
Legislative items, she said, can be passed based on any reason, as long as it isn't arbitrary or unreasonable. With a quasi-judicial item, a decision needs to be based on evidence presented at the hearing, and not on communications outside of the public hearing.
"The applicant has a due process right to be heard, and to a fair and impartial hearing. So, you can't prejudge an application," Cohen said. "Given that, I have advised Mr. Bueno that he should recuse himself from this matter."
Additionally, she explained, Board Member Alan Shullman was absent, reducing the number of board members able to vote to five. Typically, an approval needs the majority of the total board, not just those present. The current board has seven members. Without Bueno and Shullman, that leaves five. Four out of the five would have to support the items presented in order for them to be approved.
"I think it is fair to the applicant to give them an opportunity to present their application when all of the eligible board members who can hear the item are actually physically present," Cohen said.
Kopp explained that he, Bueno and Holloway are in a tricky situation, as all three are on the Aero Club board, with Bueno serving as president.
Kopp decided ahead of time to separate himself from Aero Club conversations on the issue, while Bueno opted to handle Aero Club concerns on the topic.
"I totally understand the applicant's desire to have the full panel so that she is able to have as many people represent, and vote fairly, on her issue," he said.
Kopp made a motion to postpone consideration of Winding Trails to Monday, Oct. 17, which passed 5-0, with Bueno recusing himself from the vote.
Cohen reminded the audience that public comment was allowed. However, because the items had been postponed, the public comment would have to be at the same meeting as the items to be part of the record for the quasi-judicial hearing. Despite that warning, several people spoke.
William Paquin expressed concern over the number of horses that would be allowed at each of the nine equestrian estates within Winding Trails.
"Our understanding is that horse owners who occupy between two-to-four acres don't typically own more than one or two horses. This implies that the intent of the investors in the Winding Trails property is to sell these properties," he said. "In other words, Winding Trails is intended to be a commercial venture for those nine owners."
He also expressed concern over setting a zoning precedent, increased traffic, waste generation, flies and odors, as well as noise.
Patricia Keeler also spoke against the project.
"Wellington dropped the ball in failing to buy the property," she said. "Wellington rarely meets a developer it doesn't like. That being said, the new owners deserve to make a profit."
Keeler suggested that the developer be flexible.
"Don't bully us into approving a project because it's the least objectionable alternative," she said. "Both sides need to compromise."
Keeler said she could support the proposal if each lot was limited to two or three horses.
Richard Wilson said he is concerned about the lakes, which will not be as wide as they used to be. He said reconstruction of the lakes would kill fish and scare birds away. "Mom and I bought this lot because we like the lake the way it is," he said. "We really hate to see it change."
PZA Board Chair Elizabeth Mariaca reminded residents that if they want their comments to be part of the record, they need to attend the next scheduled hearing.
"I know I speak for the entire board here, we do care. It means a lot to us that you take the time to come out," she said. "We hope to see you out again."