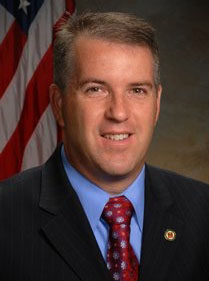 Former Wellington Councilman Matt Willhite faces Royal Palm Beach businesswoman Laurel Bennett in the race to replace term-limited State Rep. Mark Pafford in District 86 on Nov. 8.
The district includes all of Wellington, Royal Palm Beach and Loxahatchee Groves, as well as several communities to the east.
"It's a very diverse district," Willhite said. "You have the wealthiest of the wealthy in parts of Wellington to some of the poorest just south of Okeechobee Blvd. in lower socioeconomic neighborhoods that are hurting every day… It's a diverse district."
Willhite believes that his background and experience — 21 years as a firefighter and now a captain, eight years as a corpsman with the U.S. Marines, eight years on the Wellington Village Council, a member of the Parent Teacher Association and School Advisory Council at Binks Forest Elementary School, and recreational baseball coach in Wellington — give him a well-rounded base to run for the seat and represent the residents of District 86.
As a firefighter, he said, the profession requires problem-solvers. "We're called to a problem, and we fix them," he said.
With the Marines, Willhite also solved problems, taking care of Marines who were injured.
On the council, he gained experience in a difficult, rewarding and challenging atmosphere. "What's most important here is people, the quality of life," he said. "We benefit them, and we're here to represent them and help them."
He is proud that Wellington is one of the most effective of the county's 39 municipalities, with little debt, a thriving economy, a sustainable community and some of the area's best schools.
"I think I bring a lot of good knowledge, characteristics and support to the race," Willhite said.
Willhite listed his two sons, his wife, and his service to the community and the nation as his top accomplishments.
Among his accomplishments while on the council, he said, included something that might seem small, but had a big impact.
"On the way to Wellington Landings Middle School, there was a sidewalk that the kids had to walk through every day through water. When they got to school, their feet were wet, and they sat through school thinking about how wet their feet were, and they didn't focus well on their education," he said. "We raised the sidewalk nine inches. The kids didn't walk through water anymore."
During Willhite's tenure, he said, taxes were kept low, good services were provided to the community and Wellington offered the best recreation services in Palm Beach County.
Willhite met his wife Alexis, a Wellington resident, 20 years ago and wasn't keen at first about living in Wellington. Yet as soon as they decided to start a family, they got their first home together in Wellington.
"I don't ever plan to leave," he said. "I'm hoping my kids will do the same thing."
Willhite said his experiences and relationships, such as working with county commissioners, officials at the Palm Beach County League of Cities, sitting on the Metropolitan Planning Organization board and going to Tallahassee are key strengths if he is elected.
"When I go to Tallahassee, I'll have some of those relationships built. I know the lay of the land there. Do I know everything? Absolutely not," he said. "There's big, big issues that are happening in the state."
Willhite is looking forward to learning about those problems and tackling them.
"I'm not just a person who comes with a problem, I come with a solution, and I want to work that out," he said. "I think that helps me and that will benefit me in the future, and I certainly think it will benefit the constituents of District 86."
In Tallahassee, Willhite wants to represent the district and bring things back, such as money for infrastructure projects. He also hopes to tackle big issues such as Medicaid, algae and the Zika virus.
The top issues in the campaign, Willhite said, are infrastructure needs and water use, the need to fully fund the education system and teachers, as well as public safety with doctors and nurses, training and keeping them in the area.
To help benefit central Palm Beach County, Willhite would like to be on the transportation, economic development or appropriations committees. With tourism as the No. 1 industry in the state, bringing people to Palm Beach County, he said, is imperative. Working to eliminate the Zika virus is important, because the economy suffers when people are scared to come here.
"We can't have the fear and threat on TV of Zika, and people canceling their hotel rooms," he said.
Small business, jobs and development are important, especially with the housing boom in the area. "Creating jobs for our economy is going to be a benefit," he said.
Willhite disagrees with some of the actions taken by the state legislature in the last session, such as not taking advantage of the Amendment 1 money and following through on what 72 percent of the population voted for.
Willhite applauds Bennett for putting her name on the ballot and putting herself out there.
"My opponent is knowledgeable in her field. I think she is a formidable candidate — she won her primary — but again, I think that my experience and my knowledge and my working relationships with people, and my personality, will help me better suit the constituents in District 86," he said.
Running for the District 86 seat is different for Willhite than running for the Wellington council, because the issues are different. Previously, it was narrower issues, such as sidewalks, street signs and speed limits, whereas now the issues are gaming, workers comp and other large issues.
Through the election process, Willhite has learned of bigger issues but realizes that they start local. "Everything that we do in Tallahassee affects people in their home here," he said. "I think it gives me a good perspective to know some local government… work with some organizations and groups here, then go to the next step and work there as well."
Willhite is proud of the fact that of the four people who were on the ballot for this race, he was the only one who was able to get on by petition and didn't have to pay a filing fee.
Running a race isn't easy, he said, between raising money, yard signs, mailers, walking to doors or gaining signatures. Elections are expensive, and going from an election in Wellington to a state district election is about four times the scale.
Willhite's top strengths, he said, are that he thinks ahead, doesn't take votes lightly, is tireless, educates himself on issues and will continue to work across the aisle to get things done.
"I'm a problem-solver. I think I have the experience and the knowledge to be able to take on this job," he said. "I've been going to Tallahassee for 20 years. I know how some things work. I'm eager to take on the training and learn more things… I'm a tireless worker. I'm going to continue to do that, and hopefully voters will recognize that they'll find someone in me who will look out for their interests."
For more information, visit www.mattwillhite.com.