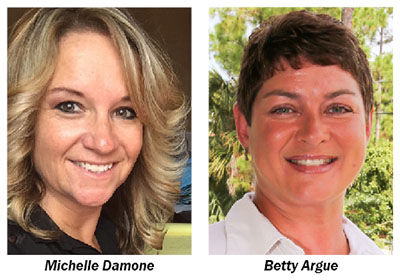 Longtime Indian Trail Improvement District Supervisor Michelle Damone faces a strong challenge from community activist Betty Argue in a Nov. 8 runoff election for Seat 4 on the ITID board.
Argue tallied 41.90 percent (2,004 votes) to Damone's 38.26 percent (1,830 votes) in the Aug. 30 primary election. Keith Jordano received 19.84 percent (949 votes) and was eliminated.
Argue said that the prevailing issues are infrastructure, drainage, canals, roads, maintenance, accountability and fiscal responsibility.
"I would like to see re-centering of the focus of Indian Trail on our canals, drainage and roads, because our infrastructure is really important," she said. "That's what we pay Indian Trail for. Indian Trail, obviously, is responsible for roads, drainage and parks, but our infrastructure was ignored for a long time, and as a result, we have a lot of catching up to do."
She said development, especially the Minto West/Westlake project, has been a major concern of hers because she feels that it is an example of overdevelopment.
"It is way more in terms of what surrounds it," Argue said. "The amount of commercial non-residential that has been approved… with a college and hotel in the center of our rural residential, equestrian community. It doesn't fit. That has always been a concern of mine. It's an argument that we've made. There were really no concessions made. The other big concern was taking Indian Trail roads and turning them into major thoroughfares, in particular 60th Street and Persimmon Blvd. That's something that I strongly object to."
Although those roads are on the county's thoroughfare map, she feels that doesn't give the county the right to allow widening for cut-through traffic.
"Indian Trail needs to protect not only Indian Trail, but also the residents," she said. "People bought on some of those roads not thinking that they were ever going to have a highway in front of their house. Already Persimmon has a lot of traffic… Once Minto opens up, once GL Homes opens up, once Iota Carol is built, you're back to having the same problems, and there will be no relief besides plowing down houses to make bigger roads."
Argue stressed that The Acreage is a rural, equestrian community and that the surrounding development is eroding that lifestyle.
"You're now going to have people with different ideas, in the sense of where they live and what they expect, moving into our community," she said. "They have to drive through our community to get to these new developments, and we're entirely different. The expectations, the lifestyles, everything is entirely different, and that is going to be a big problem when we have to find a way to protect our area, protect our residents and protect our lifestyles."
Argue said that the county's comprehensive plan was supposed to protect The Acreage from overdevelopment, but the county approved amendments that favor developers.
"Those protections were eroded, and that has just been the basis of our arguments, that people moved out here thinking that this was protected by the comprehensive plan," she said.
Damone said that she is prepared for a no-holds-barred campaign over the next month.
"I know who I'm running against, not necessarily in the form of my opponent, all the negative campaigning," she said. "I know who is behind all the negative campaigning."
Damone said that her opponent has tried to paint a picture that Damone favored the development that is occurring all around The Acreage.
"It has been quite the opposite," she said. "To simply say 'no' to development and to sue Minto, and ultimately Palm Beach County, is only taking tax dollars out of our taxpayers' pockets for frivolous lawsuits, and in the end by saying 'no,' you only get what you feared. By having a positive attitude, experience and knowledge, and speaking respectfully, you can actually negotiate things that are tolerable that are positive amenities for our community."
Damone noted that Argue is one of the founders of ALERTS (Acreage/Loxahatchee Engaged Residents Taking a Stand) of PBC and has a record of suing the Palm Beach County School District, Palm Beach County and Minto West/Westlake.
"Who else is she going to sue?" Damone asked. "She has been in front of the Indian Trail board trying to get us to spend more Indian Trail tax dollars to continue a lawsuit that ultimately is not winnable. I'm not about wasting tax dollars. I'd rather build community centers. I'd rather expand the park. I'd rather mow swales more often. I'm not going to waste tax dollars on lawsuits that can't be won. She is trying to get Indian Trail carte blanche access to do the same with our tax dollars, and I will not allow it."
Damone said that she wants to continue support for a commitment made by County Commissioner Melissa McKinlay to fund $3 million for the long-planned community center at Acreage Community Park that Damone has sought for more than a decade.
"My opponent is already against it because she doesn't have a clear understanding of maintenance costs," Damone said. "She wants to make it appear that it is something that we cannot afford. Right now, parks make up just over 9 percent of the overall budget, and it is truly the core of our community, because we don't have a lot of amenities or large places to gather, so Acreage Community Park and our parks have been instrumental to the success of the core of our community when we're doing fundraisers or events."
On the topic of Acreage incorporation, Damone said she feels that residents have the right to explore the idea and wait for a feasibility study to be completed in order to make a business decision.
"I don't believe she [Argue] supports that effort," Damone said. "I believe it would be irresponsible not to investigate the opportunity to see if it is feasible."