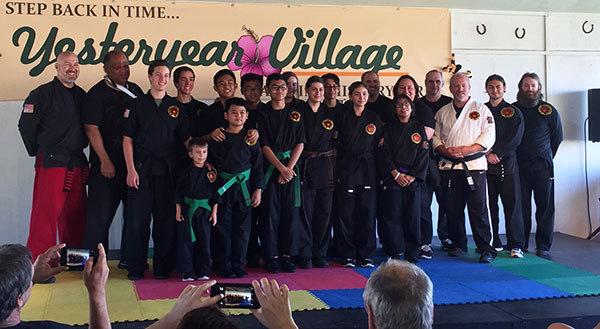 On Oct. 22, the Villari's Studios of Self Defense Swift Tigers Demonstration Team performed at the 13th annual Spookyville Festival at Yesteryear Village.
The Villari's team, which was just organized in August, was started by Chief Instructor Dave Wilson and assisted by Simon Jupp, Katie Bowen, Matt Evers, Dan Zottoli, Richard Amadan and Mike Humpage. The team gave its debut performance to a large and appreciative audience.
The team, which is comprised of children ages 5 to 16, presented to the audience aspects of the martial art they study, Shaolin Kempo Karate Jujitsu and Chin Na, that included locks, throws, kicks and punches. The Swift Tigers role-played, giving the audience a variety of scenarios that children, teens and even adults could be confronted with, including bullying, stranger danger, date attacks and more — showing how they could be handled given a no-retreat situation. The students also showed their proficiency with weapons and weapon defenses.
Wilson demonstrated his 20-plus years' experience in the martial arts by being attacked by a group of four adult male attackers. The kids then went on to close the demonstration by showcasing multiple attack scenarios for the crowd, which included a mixture of both female and male team members having to defend themselves. The demonstration concluded by having young spectators come onstage to learn basic self-defense techniques.
The Swift Tigers Demonstration Team team has two captains (Gia and Parker), and the other key members are little Parker (age five), Leslie, Julianna, Camden, Anthony, Gabby, Andrew, Ethan, Langston, Emerson and Jennea. All of the team members are excellent students, civic minded and socially conscious.
Villari's is located at 12794 W. Forest Hill Blvd., Suite 7, in the original Wellington Mall. For info., call (561) 792-1100 or visit www.villarisofwellington.com.
ABOVE: The Swift Tigers Demonstration Team takes to the Yesteryear Village stage.