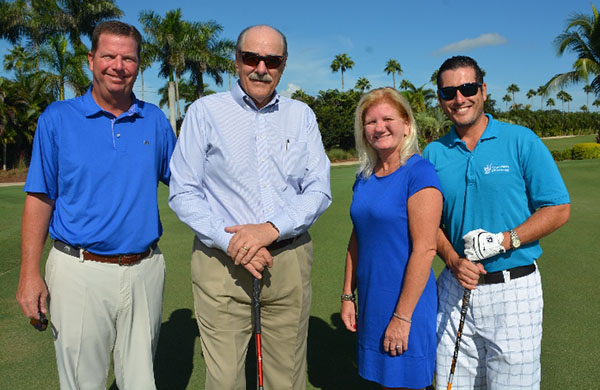 On Saturday, Oct. 22, the Wellington Chamber of Commerce will host its inaugural golf tournament at the Wanderers Club.
The event will be chaired by Johnny Meier of My Community Pharmacy. "In following in the tradition of exceptional Wellington Chamber of Commerce events, we wanted to provide an exceptional day of golf and camaraderie, and what better way than a golf tournament," Meier said.
Registration will begin at 7:30 a.m. with a shotgun start at 9 a.m., followed by a buffet awards luncheon at 1 p.m.
This year's event is sponsored by My Community Pharmacy, Dale Grimm CPA, Dr. Andrew Savin of Bethesda Health and Rob Khurana of Gold Star Mortgage Financial Group.
For information on participating in the event, call the chamber at (561) 792-6525.
ABOVE: Wanderers Club Head Golf Pro Jeff Fraim, Wellington Chamber Treasurer Dale Grimm, Wellington Chamber President Debbie Crompton and Golf Tournament Chair Johnny Meier.