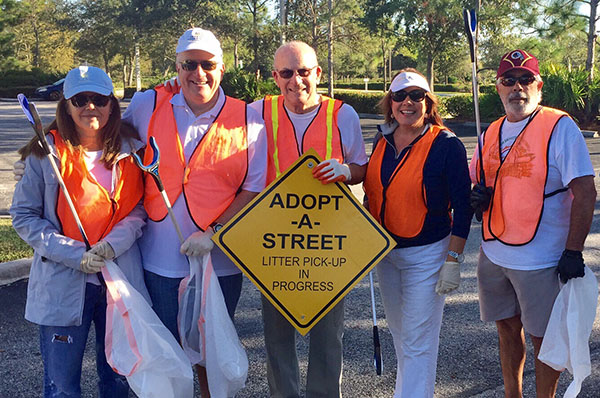 Several volunteers from the Wellington Community Foundation met up Saturday, Oct. 22 in front of the Wellington library to coordinate efforts on the group's first quarterly Adopt-A-Street Clean Up Day.
The Wellington Community Foundation adopted the east and west roadways along Forest Hill Blvd. from South Shore Blvd. to Stribling Way and agreed to conduct cleanup days four times per year as part of the ongoing Wellington Adopt-A-Street program.
The program, which began back in the 1990s, allows residents to get involved and help keep the community looking great. Individuals, organizations or businesses commit to clean up their areas at least four times a year.
The Wellington Community Foundation Board of Directors agreed to sign up for the program as a great way to give back to the community, Foundation Chair Tom Wenham said. Although village employees do pick up trash on the streets all the time, volunteers were surprised at all the trash they did pick up along the route.
The Wellington Community Foundation is a charitable organization committed to benefiting the residents by supporting and improving their quality of life. For information about the foundation, or to become involved, call (561) 333-9843 or visit www.wellingtoncommunityfoundation.org.
ABOVE: Lizz and Mickey Smith, Tom Wenham, Maria Becker, and Jim Sackett take part in the cleanup effort.