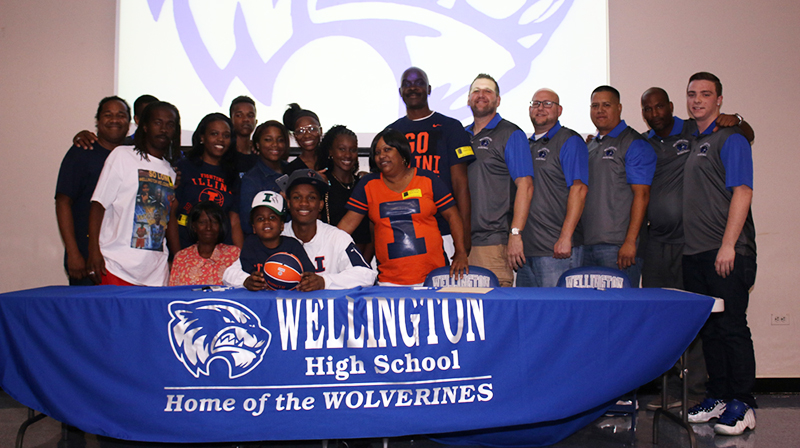 Four Wellington High School athletes signed college letters of intent on Wednesday, Nov. 9.
Basketball star Trent Frazier signed with the University of Illinois, while softball standout Catherine Vega signed with the University of North Florida. Wolverine baseball player Sawyer Losey signed with Florida State University, and teammate Angelo Brunelas signed with Winthrop University.
WHS Athletics Director Pattie Fitzhugh asked the students to thank their parents for everything they've done in support of their students' sports careers, as she thanked those present for the signing of four of Wellington's athletes.
Baseball coach Scott Riddle spoke on behalf of Losey and Brunelas. "When talent and preparation get together, you see in front of you what happens," he said. "It's the player's God-given ability and talent that gets them to where they are today."
Losey and Brunelas, he said, are both dedicated players.
"The great part about working with these guys is that, first of all, they're out there. They're talented kids, just like everybody who plays for the basketball team, and softball, and football are very talented," he said. "They are talented, but they also put in a ton of work. They've turned that talent into what you see today — the opportunity to play college baseball."
Softball coach Mark Boretti spoke about Vega. "Catherine started all four years for us. She is a very hard worker who works diligently at her game. She's an outstanding catcher," he said. "Her freshman year, we knocked off the No. 1 team in the area."
Vega is the eighth student to go to a Division I college and fourth student to go to the University of North Florida from Wellington.
Basketball coach Matthew Colin noted that Frazier has been the team MVP for the past two seasons. "He was player of the year in both the Sun-Sentinel and the Palm Beach Post. Trent is a relentless worker. He's the first one in the gym, the last one to leave. I have to turn the lights off to get him out of there," Colin said. "He's a great kid; very special."
Colin reminisced about one of his fondest memories with Frazier, during his sophomore year when the team won the state title.
"I'm so proud of him and feel so fortunate that I was allowed to coach him during his high school years," Colin said. "Congratulations to Trent Frazier and all our athletes signing."