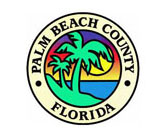 The Palm Beach County Commission gave preliminary approval last week to Iota Carol's 1,288-acre Delray Linton Groves project.
The commissioners transmitted the project to Tallahassee for comment on a plan that changes the land's designation from one unit per 10 acres to "western communities residential," a newly created designation that would allow the developer up to one unit per 1.25 acres. That's similar to surrounding approvals, and would increase the current 129 allowed units to 1,030 units with more than 100,000 square feet of commercial space.
The site, located two miles west of Seminole Pratt Whitney Road and north of 60th Street North, is almost surrounded by GL Homes' 4,872-acre Indian Trail Groves project, which was approved in September for a similar density, allowing the development of up to 3,897 homes and 350,000 square feet of commercial use.
To the south, separated by only one small piece of property, is Minto's 3,800-acre Westlake project.
Other projects in the area include the Sluggett property at the northwest corner of Southern Blvd. and Seminole Pratt Whitney Road, Lion Country Safari's 254-unit residential amendment that was approved six years ago, Highland Dunes/Arden approved in 2005 and the Avenir development approved earlier this year by the City of Palm Beach Gardens.
Principal Planner Bryan Davis said the latest project is unique in that it is part of the county's sector plan that was never adopted.
"This is the second-to-last parcel that was contemplated for development," Davis said. "The idea of this was to address in the sector plan those large parcels in the unincorporated county and how you would address the imbalance of uses and unmet needs out there for infrastructure to make this a more sustainable portion of the county."
He explained that the Delray Linton Groves project had to run in tandem with the Indian Trail Groves project approved last month because it relied on mechanisms installed through the GL Homes' proposal.
"We implemented a new overlay to implement this, so the intent with this project is to scale the overlay and bring this project in to complement that Indian Trail Groves project," Davis said. "We have effectively had to slow this project down, so that is why you're seeing this project later than we intended."
He said that GL Homes originally had wanted to have a concurrent rezoning with Delray Linton Groves, and Davis anticipated that both rezoning processes would be done simultaneously. He added that the new use would help balance uses in the area by reducing the length of vehicular trips for services.
A minimum of 50 percent of the project will be open space, and construction would be clustered to take up less than one-third of the area.
Davis said that the staff approval recommendation hinges on quantifiable public benefit, including dedication of land for civic sites, including a fire station, pedestrian and equestrian trails, and more than 400 acres offered to the Indian Trail Improvement District for stormwater storage, which, in conjunction with GL Homes' offer of 640 acres of stormwater retention, would total more than 1,000 acres to address regional flooding concerns.
The developer would pay $1.3 million as its "proportionate fair share" for roadway improvements. Davis added that there is a condition similar to one for the GL Homes project that prohibits annexation or incorporation of the project.
A public meeting took place Oct. 11, which was attended by two ITID staff members, but County Commissioner Melissa McKinlay pointed out that it was held the same evening as a candidates' forum for the upcoming ITID election. "There was definitely a conflict, and I just don't want to make it seem like two people was representative of the concern on the project in the district," McKinlay said.
Commissioner Paulette Burdick pointed out that the approval, along with others in the area, would put the number of new homes at almost 15,000 at buildout, and that some of the builders are pledging more than their proportionate share amount.
"We, the taxpayers, will have to find an additional $100 million to build the necessary roads to accommodate all of the cars out there," Burdick said. "We understand we get impact fees, so when they give us a civic site for a police station or a fire station, it's nice that they are providing the site and a million dollars in impact fees. But, we, the taxpayers, have to come up with the other $4 million to build the station, and then hire the staff to operate it."
She added that the school district is in a similar situation having to provide educational facilities.
"It's nice that they are providing a site to build a new school, but with 15,000 new homes and a school district that has no ability whatsoever to raise the additional capital to build the schools, and elementary schools right now cost about $20 million, so we're making these decisions, and yet how does our School District of Palm Beach County deal with the impact of 15,000 new homes without the ability, because of what the legislature has done, to build the schools necessary to house and educate the children?" Burdick asked.
McKinlay made a motion to deny transmission, which failed with commissioners Shelley Vana, Steve Abrams, Priscilla Taylor and Mayor Mary Lou Berger opposed. Commissioner Hal Valeche was absent.
Taylor then made a motion to transmit, which carried 4-2 with Burdick and McKinlay opposed.