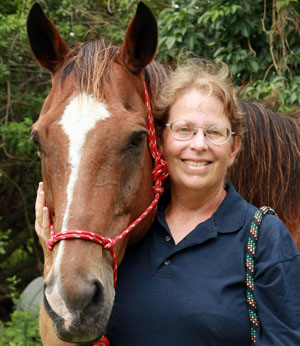 TALES FROM THE TRAILS
Sometimes I get nostalgic thinking about long gone horse-related businesses. I rode or boarded at many farms that no longer exist: Pine Grove Stables, now Okeeheelee Middle School; a barn which underwent many name changes, including Party Acres, at the corner of State Road 7 and Southern, now Lowe's Home Improvement; and trails galore now occupied by housing developments and shopping plazas.
Which is why it's a real treat to find a facility virtually unchanged by years and growth. John and Catey Stomski have had their boarding stable and yard full of new and used horse trailers for sale in the same location at 4720 Melaleuca Lane, between Military Trail and Jog Road, in Greenacres since 1968.
"When I was a teenager, I actually boarded my horse at a barn called Western Play Ranch across the canal behind us," Catey reminisced. "There was nothing out here back then. We used to race our horses along Melaleuca Lane, which was a shell-rock road. We learned to race heading away from Military Trail, back toward the barn, in case we couldn't stop in time."
The area was all woods and trails back then, she explained.
"We'd trail ride alongside Military Trail or Jog, which was also shell-rock. There was a little mom-and-pop grocery store with a hitching rail out front. We'd ride over, tie our horses, and go in for snacks and sodas," Catey said. "Eventually, the roads got paved, houses and townhomes, businesses and schools got built all around us. For many years, we were the only horse trailer dealership in Palm Beach County. People are amazed that we're here, but we were here first. We never have any problems or complaints, except sometimes excessive fireworks on the Fourth of July."
Wildwood Stables, the name of the boarding facility, manages to pack several barns and 31 stalls, wash racks, spacious tack rooms, hay, feed and shavings sheds, grassy turnout paddocks, trailer parking, and a lighted riding ring into the 5-acre parcel. They offer full and partial board with daily feeding available.
Christina Gengo has boarded Bobby, her Quarter Horse, at Wildwood for years.
"We've been here about 14 years," she said. "I love that it's very family-oriented. Everyone looks out for all the horses. I also like that the owners live on the property, so someone's always here to check up on the horses. I feel very safe here. The ring is lighted, so I can ride at night, and it has excellent footing. I'd definitely recommend this place to anyone. You get a real feeling of community here. We have get-togethers, Christmas parties and game nights where we play horse Monopoly. I'd never move my horse anywhere else."
As for the trailers, the Stomskis are official Sundowner dealers and can order you any model you desire, but these days they do most of their business in used horse trailers of all makes and sizes. They currently have about 20 in on consignment — a little of this, a little of that. Modern trailer construction has changed the business.
"Back in the day, many trailers were steel, or aluminum skin on a steel frame," Catey explained. "And you know what happens to steel, especially here in South Florida. It rusts out. A trailer might last 10 years, then you'd have to either do extensive repairs or buy a new one. Now all the trailers are aluminum, so they basically last forever."
The Stomskis used to sell many new trailers, but they were hit hard by the economic downturn a decade ago.
"The crash hit us hard," John recalled. "We had a huge inventory and no buyers. That was a tough time. No one wanted a new trailer. Everyone was looking for less-expensive, used trailers, especially two-horse tag-along bumper pulls with a dressing room. We got through it, but it was tough. Now, I'd say our best sellers are three-horse goosenecks."
The Stomskis also have a horse trailer repair shop, where they can fix any and all problems or update or renovate, like sprucing up the tack room and adding new saddle and bridle racks. Common complications requiring repairs often involve fixing dings and dents, caulking roof leaks, replacing less-than-sound floors and checking the electrical wiring. Wheel bearings should be repacked regularly. They offer a safety check, which should be done annually.
"When you're hauling horses, the last thing you want is any kind of trailer mishap," Catey cautioned. "Our annual trailer safety check covers everything — the electrical system, brakes, floor, jack, coupler, hitch, springs and tires."
Trailer tires are a whole subject in and of itself.
"You can't just look at the tread and think everything's fine," she said. "The South Florida sun does a number on tires. Trailers aren't like cars. You don't typically use them every day, so the tires sit and bake. Dry rot sets in. Every tire has a code on its side telling the month and year it was made. You should keep up with that and replace them every five years or so."
The Stomskis recommend using hitch and tire covers during the weeks a trailer is just sitting around. They also recommend that trailers should be thoroughly washed and waxed twice a year. They also offer a pre-purchase exam if someone is thinking of buying a used trailer, to make sure there aren't any major structural problems such as a rotten floor or bent axis. "It only takes about an hour and can be the best $80 you'll ever spend," John advised.
For more information, visit www.stomskihorsetrailers.com or call (561) 968-3508.