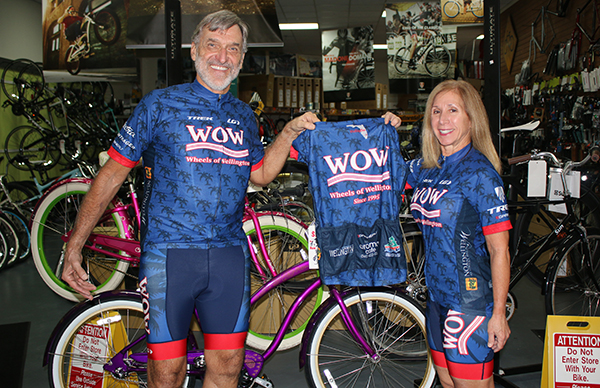 Wheels of Wellington owner Stan Kilbas is proud to announce a new line of WOW-branded gear for riders.
The Wellington store now carries lightweight jerseys and bibs for bicycle riders; pro gear with a pro fit.
"They look good on everybody. They look good on the guys; they look good on the gals," Kilbas said, noting that they're the perfect balance between loose and tight, providing a comfortable fit while riding.
Made by Garneau, the gear also offers sun protection.
"They're a real nice, lightweight fabric designed to wick the moisture away when you're riding your bike. That wicking feature has a cooling effect on your body when you're riding," Kilbas said. "They make more sense than cotton, because with cotton, the water stays in the material, so all that moisture that you're emitting while you're riding collects on you. With a cycling jersey, it wicks it away."
The jerseys have three pockets for gear, such as a spare tube, tools to change a tire, a phone and some food. The bib has a small back pocket as well, for extra gear or small items.
There are different panels for support on the bib, as well as special padding that serves two purposes; it adds cushion to the saddle and wicks moisture away.
On the bib and jersey set is Village of Wellington branding, along with Aroma Café, Woody's cobbler shop and Wellington The Magazine. At the top of the jersey is the State of Florida.
Often, winter riders who come to Florida will bring back souvenirs, so Kilbas wanted to be sure to include the state and the village.
Besides providing a pro product, Kilbas is showing his pride for the area. And he's following a bike shop trend.
"Most shops have their own little kits," he said. "The guys have been bugging me for 21 years to finally get a kit. Now that we've come of age, I decided to go ahead and do it."
The jersey and bib are also easy to clean, he said.
"I just throw these in the washer, but I double rinse them and hang them up to dry," he said.
Always rinse them out twice, he noted, because you don't want soap residue. He also suggests using liquid soap rather than powdered soap.
Wheels of Wellington is located at 12794 W. Forest Hill Blvd., Suite 36, in the original Wellington Mall. For more information, visit www.wheelsofwellington.net, call (561) 795-3038 or e-mail wowman6@comcast.net.
ABOVE: Stan Kilbas and Rachel Bridge display the new WOW-branding line of bike gear.