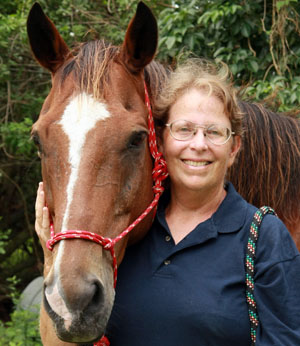 TALES FROM THE TRAILS
It was one of those overcast, blustery days on Oct. 30. It rained the night before, and the clouds hung around, looming low and dark but, happily, they kept their distance. The wind, however, ranged from strong breezes to crazy gusts, and this did cause some problems. Visitors and vendors alike held on tight to whatever might blow away at the fourth annual Sunshine Meadows Flea Market.
The 175-acre facility was its usual busy self: lessons progressing in some of the hunter rings, riders practicing in the dressage rings, horses breezing on any of the three racing tracks and small groups hacking out on trails. But the main event, the flea market, had vendors packed side by side in assigned spaces around one large, grassy riding area.
"We had more than 50 vendors sign up this year," Sunshine Meadows marketing specialist Briana Hassibi said. "I think this is our best year ever. We also have a lot of animal charities showcasing how they help our community."
Some brought rescue dogs ready for adoption.
"Sunshine Meadows owner Big Steve Wolf is very big into philanthropic causes, very community-minded and always willing to give back and help out charities or good causes," she said. "This is the perfect way to host a fun community occurrence that's also a charity fundraising event. He loves promoting our equestrian lifestyle."
Cars were parked everywhere along the roadways, and shoppers checked out the offerings, making purchases or just browsing, and occasionally helping rescue a pop-up canopy suddenly turned topsy-turvy by the nettlesome wind.
Some booths offered traditional flea market items: bicycles, local honey, household goods, an exercise bench, clothes, bedding, pillows, plants and flowers, framed artwork and horse-themed items. A majority of the sellers had cleaned out their tack rooms and brought all the extra stuff every equestrian seems fated to collect. There was horseshoe art, saddles of every description and for every discipline, bridles, bits, saddle pads, martingales, reins, halters and lead ropes, stirrups and leathers, bell boots, shin boots, riding boots, breeches, show shirts, hardhats, horse trailers — a little of everything. Even a vintage fire truck retrofitted as a food truck (for a mere $12,500).
"This is all my granddaughter's old equipment," said seller Marilyn Laughlin from West Palm Beach. "She switched from English to western, so there's a lot of stuff she doesn't use anymore. Also, she outgrew some items, and she changed her color scheme. The sale is going excellent so far. We priced all the saddles, bits, bridles, halters and boots to be really affordable. And with whatever money she makes, she'll buy more horse stuff."
Young Abby on her pony, S'mores, both costumed for Halloween, was selling Silly Sounds horse earplugs as a fundraiser for her Equines and Equestrians IEA team. Cheryl Winchenbach had brought along assorted horse stuff. "I have horses no more," she said. "I dragged all of this along when I moved here from Maine two years ago, and it has been in storage. I've sold a few items so far."
Volunteer members of the sheriff's mounted COP unit, both on foot and mounted, patrolled and mingled. The walkers paused at various booths. "Can't resist looking and shopping," one said with a shrug.
Lisa from Loxahatchee had brought tons of bits, girths, saddles and pads. Hers was one of the flyaway pop-up canopies, quickly wrangled back into place and tied down. Amber from Coconut Creek and her friends had collected all the extra equipment they weren't using and invested in a selling spot.
"We're doing really good," she said. "We're selling all our stuff. We'll definitely do this again next year."
Carolyn from Tan Line Stables in Boca Raton comes every year. "We brought an assortment of extra used stuff," she said. "My goal is to sell everything so I don't have to bring any back home with me. This sale is a great thing. I wish they'd do it more than once a year."
January Magee from Coconut Creek had sold half of all the things she had brought along. "This is my first time doing this here," she said. "I'll most definitely come back again next year."
Sara from Delray Beach had cleaned out her group's tack room and carted it all in. She volunteers with Horses Healing Hearts at Johnson's Folly. "It's going really good," she said. "This is a lot of fun, plus a great way to raise money."
Denise Molina, a trainer with Golden Gait Riding Stables, which calls Sunshine Meadow home, was in charge of the pony rides. "It's going very well, despite this crazy wind," she said. "The horses haven't minded the flying tents at all. We've got a line of people waiting their turn. I think this sale gets bigger and better each year. It's a wonderful family event."
For more information about Sunshine Meadows Equestrian Village, visit www.facebook.com/SunshineMeadowsEquestrianVillage.